Researchers develop new therapeutic gel filling for root canal treatment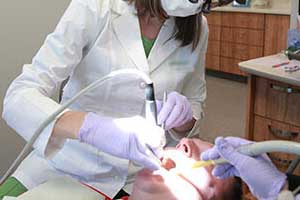 Seoul, Korea: A new study published in the journal PLOS ONE has demonstrated the potential effectiveness of a new therapeutic gel filling for root canal treatment. The gel releases antibiotics and nitric oxide (NO) into the treated tooth canal, instead of the standard blood clotting that is used for filling the empty canal post-procedure.
Kyounga Cheon, assistant professor, the University of Alabama at Birmingham School of Dentistry, and colleagues conducted the study to evaluate the antibacterial effects of antibiotics and NO-releasing biomimetic nanomatrix gel on multispecies endodontic bacteria.
The authors report that nanomatrix gel filling can help regenerate and heal the site better than the commonly used clotted blood to fill the canal. The new nitric oxide filling releases antibacterial properties that aid pulp regeneration and the antibiotics needed to treat the site simultaneously.
Also Read: New Dental material may keep Tooth alive after Root Canal
"Root canals are common dental procedures in which infected pulp tissue is removed from the tooth, and having a bioactive therapeutic filling that can help treat and heal the pulp tissue would be of huge benefit to both the dentist and the patient," Cheon said. "We're hopeful that the combination of antibiotics and nitric oxide will help change the way root canals are treated moving forward."
"Findings from this study support the notion that antibiotics and NO were released from the nanomatrix gel by enzymatic degradation and demonstrate compatible antibacterial effects with optimal concentrations," write the authors. "NO does not interfere with the antibacterial effect of the antibiotics and may eliminate antibiotics in the treatment regimen in the future."
Also Read: Nanodiamonds show promise for aiding recovery from root canal
"Further studies with a larger sample size are required, varying differentiation markers and growth factors to develop a robust clinical protocol prior to human trials," they concluded.
For further reference follow the link:
https://doi.org/10.1371/journal.pone.0205534
Source : With inputs from PLOS ONE