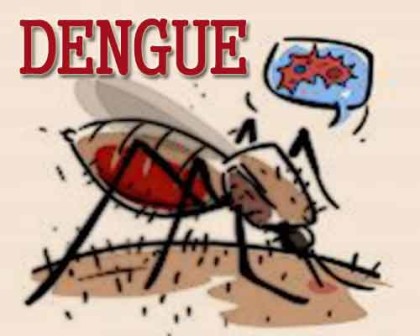 Meet M Thacker and Prakash V Makwana of Shri M.P. Shah Govt. Medical College, Jamnagar, Gujarat reported a rare case of occurrence of Ventricular Tachycardia due to Dengue Myocarditis which appeared in the Journal of The Association of Physicians of India(JAPI).
It is postulated that dengue rarely affects the heart. Medical literature has reports of isolated cases of atrioventricular conduction disorders (junctional rhythm and atrioventricular block), ventricular and supraventricular arrhythmias, and myocarditis. On the other hand, the ventricular dysfunction associated with the acute phase of dengue hemorrhagic fever has been described by several authors and is probably underdiagnosed in clinical practice. Although cardiac manifestations of Dengue are rare, and Arrhythmias are even rarer, the most common form of arrhythmias seen in Dengue Myocarditis is atrioventricular Blocks.
Read Also: Vitamin B12 deficiency linked to severe thrombocytopenia in Dengue
The case described is of a 30-year-old lady otherwise asymptomatic who was admitted to the hospital with fever with chills since 7 days, associated with generalized body ache, headache, retro-orbital pain, myalgia since 3 days, abdominal pain, nausea, vomiting since 2 days.
The patient had taken some primary treatment from a local private practitioner nearby, however, no documentation of which was available. No investigations were done at that visit. Upon arrival at the hospital, the patient was febrile (103.8 F), with Pulse rate- 108/min, Regular in Rhythm, Blood Pressure- 110/68 mmHg, Respiratory Rate of 18/min. Examination of the RS, CVS, and abdomen revealed no evident abnormality. The patient was admitted and a provisional diagnosis of Viral Fever was made, supportive symptomatic treatment for which was begun. Investigations on admission were- Haemoglobin- 13.1g/dl, Total WBC Count – 7200×103/ul, Platelets- 82,000/ ul, AST- 42 IU/L, Serum Bilirubin- 0.8(0.2+0.6) g/dl, Serum Creatinine- 0.8mg/dl. Dengue NS1 antigen was negative, but Dengue IgM Antibody positive by ELISA, thereby confirming the diagnosis of Primary Dengue Fever. Routine Electrocardiogram (ECG) and Chest X-ray were done which were normal.
After admission, the patient was stabilized and was showing signs of improvement, with increasing Platelet count (96,000/ul) on Day-2. No evidence of 'Capillary Leak' was noticed anytime during the stay. On day 4 of admission, the patient complained of three dropout attacks in the morning and considering syncopal attacks, the patient was shifted to ICCU for ECG monitoring and further management. Upon arrival at ICCU, baseline ECG showed no abnormality. But within 4 hours of observation, the patient had 2 episodes of Non-sustained Ventricular Tachycardia (NSVT), recorded on the ECG monitor, and after 4 hours, the patient had an episode of sustained Pulseless Ventricular Tachycardia, which was recorded on the ECG shown in Figure.1 below and treated with prompt Cardioversion. Other investigations sent thereafter, showed a high ESR and positive Troponin I (2.4 ng/ml). A 2-D Echocardiogram revealed generalized LV Hypokinesia, with Ejection Fraction (EF) 40%, all favoring the diagnosis of Myocarditis. The rest of the stay of the patient was uneventful.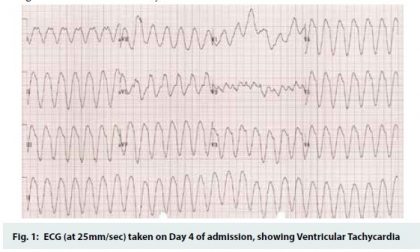 Subsequently, considering viral aetiology for Myocarditis, the patient was discharged on Steroids (1mg/kg Prednisolone), Amiodarone (200 mg OD), Metoprolol (50 mg/day), and was kept on regular follow up. After a month, Amiodarone was stopped and steroids tapered. On subsequent follow up at 6 months, the patient had no further symptoms and 2D Echo had normalized.
Read Also: Case of Dengue Fever presenting as Acute Pancreatitis
Cardiac dysfunction associated with the acute phase of Dengue has been underdiagnosed and depression of myocardial function is frequent in dengue hemorrhagic fever and dengue shock syndrome. Ventricular Tachycardia is one such rare but potentially fatal complication, and thus physicians need to be made aware of it.
Dengue Fever is one of the most common Arboviral diseases in India. It usually presents as an acute viral illness, most commonly, self-limited, and subsides with only supportive treatment. Complications are rare and usually consist of Dengue Hemorrhagic Fever (DHF) and Dengue Shock Syndrome (DSS).
For reference log on to http://www.japi.org/october_2018/c3.html