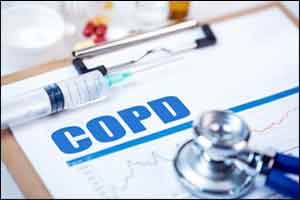 Use of continuous and intermittent prophylactic antibiotics results in a clinically significant benefit in reducing exacerbations in COPD patients, according to a systematic review published in Cochrane.
Samantha Herath and associates conducted a systematic review to determine whether or not regular (continuous, intermittent or pulsed) treatment of COPD patients with prophylactic antibiotics reduces exacerbations or affects the quality of life.
Read Also: Adding theophylline to ICS does not reduce exacerbations in COPD
The investigators searched Cochrane Airways Group Trials Register and bibliographies of relevant studies which included randomised controlled trials (RCTs) that compared prophylactic antibiotics with placebo in patients with COPD.
The review included  14 studies involving 3932 participants. The antibiotics investigated were azithromycin, erythromycin, clarithromycin, doxycyline, roxithromycin, and moxifloxacin. The study duration varied from three months to 36 months and all used intention‐to‐treat analysis. The studies recruited participants with a mean age between 65 and 72 years and mostly at least moderate‐severity COPD. The co‐primary outcomes for this review were the number of exacerbations and quality of life.
Read Also:  Revefenacin may be first once-daily, long-acting treatment for COPD
The key study findings included are:
With the use of prophylactic antibiotics, the number of participants experiencing one or more exacerbations was reduced. This represented a reduction from 61% of participants in the control group compared to 47% in the treatment.
The number needed to treat for an additional beneficial outcome with prophylactic antibiotics given for three to 12 months to prevent one person from experiencing an exacerbation (NNTB) was 8.
The test for subgroup difference suggested that continuous and intermittent antibiotics may be more effective than pulsed antibiotics
The frequency of exacerbations per patient per year was also reduced with prophylactic antibiotic treatment.
Six of the seven studies reporting time to first exacerbation identified an increase (i.e. benefit) with antibiotics, which was reported as statistically significant in four studies.
There was a statistically significant improvement in the quality of life as measured by the St George's Respiratory Questionnaire (SGRQ) with prophylactic antibiotic treatment, but this was smaller than the four-unit improvement that is regarded as being clinically significant.
Prophylactic antibiotics showed no significant effect on the secondary outcomes of the frequency of hospital admissions, change in forced expiratory volume in one second (FEV1), serious adverse events or all‐cause mortality (moderate‐quality evidence).
There was some evidence of benefit in exercise tolerance, but this was driven by a single study of lower methodological quality.
The adverse events that were recorded varied among the studies depending on the antibiotics used. Azithromycin was associated with a significant hearing loss in the treatment group, which was in many cases reversible or partially reversible.
The moxifloxacin pulsed study reported a significantly higher number of adverse events in the treatment arm due to the marked increase in gastrointestinal adverse events.
Some adverse events that led to drug discontinuation, such as the development of long QTc or tinnitus, were not significantly more frequent in the treatment group than the placebo group but pose important considerations in clinical practice.
The authors concluded that use of prophylactic macrolide antibiotics for a period of up to 12 months is likely to reduce the number of patients with one or more exacerbations, exacerbation frequency, increase the median time to first exacerbation and improve health‐related quality of life. However, the benefits appear to be driven by continuous and intermittent macrolide regimens, with pulsed regimens being less effective.
Chronic obstructive pulmonary disease, or COPD, is a group of progressive lung diseases. The most common are emphysema and chronic bronchitis. Many people with COPD have both of these conditions.
For full information log on to https://www.cochranelibrary.com/cdsr/doi/10.1002/14651858.CD009764.pub3/full