Adding theophylline to ICS does not reduce exacerbations in COPD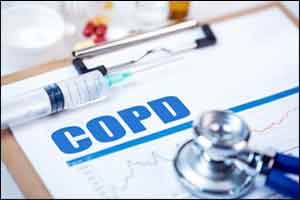 Adults with COPD at high risk of exacerbation treated with inhaled corticosteroids, the addition of low-dose theophylline did not reduce the number COPD exacerbations over a 1-year period compared with placebo, according to a study published in the journal JAMA Network.
Oral theophylline has been used as a bronchodilator to treat COPD for decades; however, to achieve modest bronchodilatation through phosphodiesterase inhibition, blood concentrations (10-20 mg/L) are required that are associated with adverse effects. Recently there has been interest in using theophylline at a low dose in COPD to achieve plasma levels of 1 to 5 mg/L.
Read Also: Revefenacin has acceptable cardiovascular safety in COPD
Graham Devereux et al conducted a pragmatic randomized clinical trial to investigate the effectiveness of adding low-dose theophylline to inhaled corticosteroids in COPD.
The study included 1578 participants with COPD with a follow up of 3 years. Participants had a ratio of forced expiratory volume in the first second to forced vital capacity (FEV1/FVC) of less than 0.7 with at least 2 exacerbations (treated with antibiotics, oral corticosteroids, or both) in the previous year and were using an inhaled corticosteroid.
The study participants were randomized to receive low-dose theophylline (200 mg once or twice per day) to provide plasma concentrations of 1 to 5 mg/L (determined by ideal body weight and smoking status) (n = 791) or placebo (n = 787).
The primary outcome was moderate or severe exacerbations treated with antibiotics, oral corticosteroids, or both over the 1-year treatment period.
The key study findings included are:


In total, there were 3430 exacerbations: 1727 in the theophylline group vs 1703 in the placebo group.


Serious adverse events in the theophylline and placebo groups included cardiac, 2.4% vs 3.4%; gastrointestinal, 2.7% vs 1.3%; and adverse reactions such as nausea (10.9% vs 7.9%) and headaches (9.0% vs 7.9%).


Read Also: Targeted lung denervation new safe treatment for COPD
"The current study attempted to replicate the use of low-dose theophylline in routine clinical practice with 121 geographically dispersed study centers, minimal inclusion criteria, infrequent study assessments, no changes to routine care, usual care settings, and use of participant-reported exacerbations," write the authors.
The study concluded that the findings do not support the use of low-dose theophylline as adjunctive therapy to inhaled corticosteroids for the prevention of COPD exacerbations.
For reference log on to 10.1001/jama.2018.14432
Source : With inputs from JAMA Network