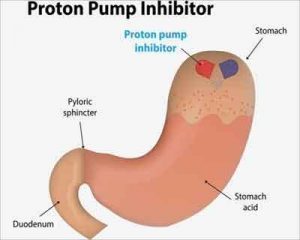 Researchers have found that long-term use of heartburn medicines increases the risk of pneumonia in Elderly.
The use of proton pump inhibitors (PPIs) is associated with greater risk of pneumonia in the second year of treatment in older adults in primary care, reports a study published in the Journal of the American Geriatrics Society. The study revealed that PPIs treated participants had greater comorbidity (54.2%) than controls (36.2%).
Jan Zirk Sadowski and his associates did a longitudinal analysis of electronic medical records to estimate associations between long‐term use of proton pump inhibitors (PPIs) and pneumonia incidence in older adults in primary care. The analysis involved 75050 individuals aged 60 and older in primary care receiving PPIs for 1 year or longer.
The investigators found that during the second year after initiating treatment, PPIs were associated with greater hazard of incident pneumonia, accounting for pretreatment pneumonia rates with similar estimates across age and comorbidity subgroups.
Read Also: PPIs and antibiotics in infancy lead to allergic diseases later : JAMA
"We have demonstrated for the first time a clear increase in long‐term pneumonia incidence associated with ongoing PPI use after accounting for preexisting differences in pneumonia rates between treated and control groups," write the authors.
The study concluded that the risk of pneumonia is greater with long‐term PPI therapy in older adults in primary care, independent of excess pneumonia rates immediately before first PPI receipt. The study showed, the excess risk was statistically similar across age and comorbidity groups, but the authors warrant that more research is needed to identify individuals at highest risk.
Proton-pump inhibitors (PPIs) are the medicines commonly prescribed to reduce gastric acid and to protect the stomach, thereby preventing stomach ulcers or heartburn. PPIs act directly on H+/K+‐ ATPase enzymes, reducing acid secretion.
For reference log on to https://doi.org/10.1111/jgs.15385