Increased screen time may impair brain development in preschool kids: JAMA study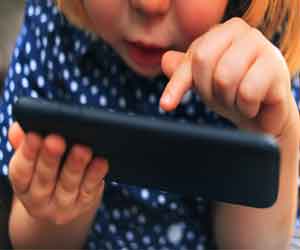 Cincinnati, Ohio: Increased use of screen-based media can negatively impact brain development in preschool children, a recent study published in the JAMA Pediatrics journal has found.
According to the study, increased screen-based media use among preschool children, greater than that recommended by American Academy of Pediatrics (AAP) guidelines can lower the microstructural integrity of brain white matter tracts involved in language and emergent literacy skills.
"This is the first study of its kind, but its results need to be replicated in other populations," wrote the researchers. "Researchers and pediatricians should take it as a launching point for future research."
AAP guidelines recommend managing media use in young children not only in terms of content or time limits but also emphasizes the importance of parent-child shared media use and allowing the child time to take part in other developmentally healthy activities. Increased media usage and time spent on screen can pose cognitive-behavioral risks, notes AAP. The guideline recommends no more than 1 hour of high-quality screen time a day for children ages 2-5 and that parents view media with children.
Screen use by young children is prevalent and increasing, although its implications for brain development are unknown. John S. Hutton, Cincinnati Children's Hospital Medical Center, Cincinnati, Ohio, and colleagues explored the associations between screen-based media use and integrity of brain white matter tracts supporting language and literacy skills in preschool-aged children.
The study involved 47 children aged 3-5 years. They were made to complete tests of phonological processing (rapid object naming), expressive language, and emergent literacy skills from August 2017 to November 2018 and underwent diffusion tensor imaging.
Their parents completed a ScreenQ survey, a 15-item measure that assessed screen use reflecting AAP recommendations of access, frequency, content, and co-viewing. Higher ScreenQ scores reflected greater use than AAP recommendations.
Key findings of the study include:



ScreenQ scores were negatively correlated with expressive language

, phonological processing

, and emergent literacy skills

scores, after controlling for children's age.




These associations did not reach statistical significance when household income was included as a covariate.



Higher ScreenQ scores also were significantly correlated with lower fractional anisotropy and higher radial diffusivity in aspects of white matter tracts in whole-brain analysis, after controlling for both children's age and household income.



Correlations for fractional anisotropy (35% vs 28%) and radial diffusivity (33% vs 21%) generally were more extensive in left-hemispheric tracts than right ones.




The most extensive associations were found in tracts involved with language, visual processing or imagery, executive functions, and multimodal association.



Read Also: Increased screen time may delay development in toddlers
"The findings suggest further study is needed, particularly during the rapid early stages of brain development," concluded the authors.
Source : JAMA Pediatrics