................................ Advertisement ................................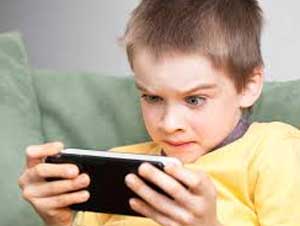 According to a large Canadian study, if a toddler spends lots of time using screens, it may delay his development of skills such as language and sociability. The findings of the study have been 
published in the JAMA Paediatrics.
Excessive screen time is associated with delays in development; however, it is unclear if greater screen time predicts lower performance scores on developmental screening tests or if children with poor developmental performance receive added screen time as a way to modulate challenging behaviour.
In this cohort study of early childhood development in 2441 mothers and children, higher levels of screen time in children aged 24 and 36 months were associated with poor performance on a screening measure assessing children's achievement of development milestones at 36 and 60 months, respectively. The obverse association (ie, poor developmental performance to increased screen time) was not observed. The study found higher levels of screen time at ages 2 and 3 were associated with poorer performance on the developmental screening measure at ages 3 and 5.
The researchers concluded that the results of this study support the directional association between screen time and child development. Recommendations include encouraging family media plans, as well as managing screen time, to offset the potential consequences of excess use.
In Canada and the US, experts say children should not use screens before they are at least 18 months old but UK guidelines set no such limit.
The American Association of Paediatrics' (AAP) guidelines on screen time say:
For children younger than 18 months, avoid the use of screen media other than video-chatting
Parents of children 18 to 24 months of age who want to introduce digital media should choose high-quality programming, and watch it with their children to help them understand what they are seeing
For children ages two to five years, limit screen use to one hour per day of high-quality programmes. Again, parents should be watching it with their children.
For children ages six and older, place consistent limits, making sure screen time does not get in the way of sleep and physical activity.
The Canadian Paediatric Society goes further, saying screen time for children younger than two is not recommended.
................................ Advertisement ................................
 Many children spend more time on screens than is recommended. This study looked at whether more screen time was associated with lower scores in a measure of developmental milestones in children and it also looked at the opposite association of whether children with delays in development received more screen time to control challenging behaviour.  The authors recommend managing children's screen time.
For more details click on the link:  doi:10.1001/jamapediatrics.2018.5056
................................ Advertisement ................................
................................ Advertisement ................................
Author Details
Hina Zahid Joined Medical Dialogue in 2017 with a passion to work as a Reporter. She coordinates with various national and international journals and association and covers all the stories related to Medical guidelines, Medical Journals, rare medical surgeries as well as all the updates in the medical field. Email: hina@medicaldialogues.in. Contact no. 011-43720751
To know about our editorial team click here
................................ Advertisement ................................