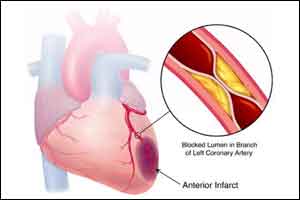 The PPIIM protocol allows safe intubation of acute myocardial infarction patients with cardiogenic shock and improves hemodynamic and oxygenation parameters, according to a study recently published in the Canadian Journal of Cardiology.
Cardiogenic shock is a life-threatening condition in which the patients might require rapid sequence induction (RSI) and mechanical ventilation.
Athanasios Chalkias et al. conducted a study to evaluate a new RSI/mechanical ventilation protocol in patients with acute myocardial infarction complicated by cardiogenic shock.
The study included consecutive adult patients who were transferred to the emergency department. The RSI protocol included 5 phases: preoxygenation, pretreatment, induction/paralysis, intubation, and mechanical ventilation (PPIIM). As inference, the investigators selected historical patients managed with standard RSI as a control group. 31 consecutive patients who were intubated using the PPIIM protocol and 22 historical controls were studied.
Read Also: Epinephrine linked to threefold mortality risk in Cardiogenic shock
The primary outcome was hemodynamic derangement or hypoxemia from enrollment until the intensive care unit (ICU) admission.
Key study findings:
Significant differences in systolic (85.32 ± 4.23 vs 71.72 ± 7.98 mm Hg), diastolic (58.84 ± 5.84 vs 39.05 ± 5.63 mm Hg), and mean arterial pressure (67.71 ± 4.90 vs 49.90 ± 5.66 mm Hg), as well as in partial pressure of oxygen (85.80 ± 19.82 vs 164.73 ± 43.07 mm Hg) between the PPIIM and control group at 5 minutes of automated ventilation.
Also, statistically significant differences were observed in diastolic (59.74 ± 4.93 vs 47.86 ± 11.47 mm Hg) and mean arterial pressure (68.65 ± 4.10 vs 60.23 ± 11.67 mm Hg), as well as in partial pressure of oxygen (119.84 ± 50.57 vs 179.50 ± 42.17 mm Hg), and partial pressure of carbon dioxide (39.81 ± 10.60 vs 31.00 ± 9.30 mm Hg;) between the 2 groups at ICU admission.
Compared with the control group, with PPIIM more patients survived to ICU admission (100% vs 77%) and hospital discharge (71% vs 31.8%), as well as at 90 days (51.6% vs 18.2%), and at 180 days (38.7% vs 13.6%).
Cardiogenic shock is a condition in which the heart suddenly is not able to pump enough blood to meet the body's requirements. The condition may be the outcome of a severe heart attack, but not everyone who has a heart attack has cardiogenic shock. Cardiogenic shock is rare, but it's often fatal if not treated immediately.

For reference log on to https://doi.org/10.1016/j.cjca.2018.04.015