Epinephrine linked to threefold mortality risk in Cardiogenic shock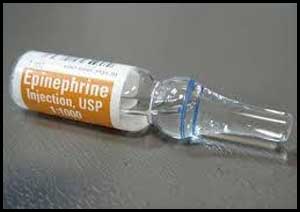 Vasopressors and inotropes remain a cornerstone in the stabilization of the severely impaired hemodynamics and cardiac output in cardiogenic shock. Catecholamines including epinephrine, are used to treat cardiogenic shock but some data in past has suggested harm.Léopold V at Department of Anesthesiology and Critical Care, Saint Louis Lariboisière University Hospitals Paris, France, and colleagues conducted a meta-analysis of 2583 patients and found that among all-cause cardiogenic shock patients, treatment with epinephrine was associated with a much higher risk of death. The study has been published in Journal of Intensive Care Medicine.
The researchers performed a meta-analysis of individual data with prespecified inclusion criteria: (1) patients in non-surgical CS treated with inotropes and/or vasopressors and (2) at least 15% of patients treated with epinephrine administrated alone or in association with other inotropes/vasopressors. The primary outcome was short-term mortality.
The investigators selected fourteen published cohorts and two unpublished datasets and included 2583 patients in the meta-analysis. The Studies concerned patients in non-postoperative cardiogenic shock treated with adrenaline vs other catecholamines.
Across all cohorts of patients, the incidence of epinephrine use was 37% (17-76%) and the short-term mortality rate was 49% (21-69%). A positive correlation was found between percentages of epinephrine use and short-term mortality in the Cardiogenic Shock cohort. They found that 462 (18%) patients had been resuscitated after cardiac arrest. The risk of death was higher in adrenaline-treated CS patients compared to patients treated with other drug regimens.
The Researchers concluded that epinephrine use for hemodynamic management of CS patients is associated with a threefold increase of risk of death. The results agree with a forthcoming OptimaCC trial (included in this analysis), according to authors and the result of Meta-analysis "supports the need to reconsider the use of epinephrine in future guidelines.