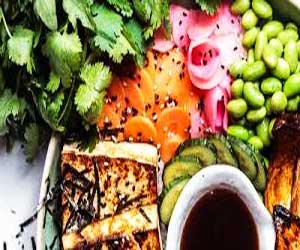 Boston, Massachusetts: Greater adherence to a plant-based diet, especially the one enriched with healthful plant-based foods reduces the risk of type 2 diabetes by 23%, finds a recent review published in the journal JAMA Internal Medicine.
The study suggested that emphasizing vegetable intake and minimizing the intake of sugar-sweetened beverages refined carbohydrates reduced type 2 diabetes risk by 30%.
The plant-based diet emphasizes foods derived from plant sources and minimal consumption or exclusion of animal products. The diet has gained popularity in recent years due to its potential role in the management or prevention of several major chronic diseases, including cancer, cardiovascular disease, and type 2 diabetes.
Although some previous studies have demonstrated the beneficial effects of the plant-based diet on blood sugar control, body weight, and cardiovascular risk factors in type 2 diabetes patients. But the role plant-based diets in the primary prevention of type 2 diabetes remains unclear.
"Plant-based diets can promote metabolic health and reduce diabetes risk through many pathways, including preventing excess weight gain, improving insulin sensitivity, reducing inflammation, and other mechanisms," said senior author Dr. Qi Sun.
Qi Sun, Department of Nutrition, Harvard T. H. Chan School of Public Health, Boston, Massachusetts, and colleagues conducted a systematic review and meta-analysis of prospective studies to assess the association between plant-based dietary patterns and the risk of type 2 diabetes.
The researchers looked at 9 published studies involving plant-based, vegan diet and involved more than  23,500 cases of type 2 diabetes among more than 300,000 people.
Key findings of the study include:
A significant inverse association was observed between higher adherence to a plant-based dietary pattern and risk of type 2 diabetes in comparison with poorer adherence, with modest heterogeneity across studies. Similar findings were obtained when using the fixed-effects model.
Consistent associations were observed across predefined subgroups.
This association was strengthened when healthy plant-based foods, such as fruits, vegetables, whole grains, legumes, and nuts, were included in the definition of plant-based patterns.
Most studies were deemed to have good quality in terms of dietary assessment, disease outcomes, and statistical adjustment for confounding factors.
Using restricted cubic splines, a significant inverse linear dose-response association was identified between plant-based dietary indices and risk of type 2 diabetes.
The combined findings from all the research papers found an association between eating a diet rich in fruits, vegetables, whole grains, legumes and nuts and a lower risk of type 2 diabetes. This was the same across all ages and body weight.
The findings emphasize that it is the quality of the plant-based products that are being consumed. Dr. Sun added: "It does matter what veggies people eat and how the veggies are processed. Therefore, consuming healthy plant foods that are not or minimally processed, such as fresh fruits and vegetables, legumes, nuts, and whole grains, should be emphasized."
"Plant-based diet, especially when they are enriched with healthful plant-based foods, may be beneficial for the primary prevention of type 2 diabetes," concluded the authors.
To read the complete study follow the link: doi:10.1001/jamainternmed.2019.2195