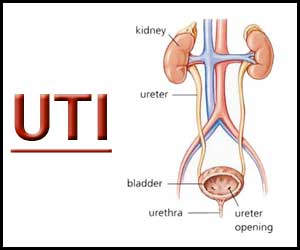 Denmark: A 5-day course of the antibiotic pivmecillinam is not superior to a 3-day course in women with uncomplicated urinary tract infection (UTI) in terms of improvement in clinical or bacteriological outcomes for UTI, finds a recent study in the Lancet journal EClinicalMedicine. 
Uncomplicated lower UTI is the most prevalent bacterial infection in women with an incidence of about 10%. If the antimicrobial therapy prescribed for treatment of the condition is inappropriate it causes considerable short-term morbidity and decreased quality of life.
Pivmecillinam (amdinocillin pivoxil) is the oral pro-drug of the antimicrobial active mecillinam (amdinocillin), a unique narrow-spectrum beta-lactam antibiotic that is highly effective against the majority of Enterobacteriaceae, including Escherichia coli  — the most common pathogen to cause UTI.
The current recommendations suggest pivmecillinam for 3 to 7 days for UTI. Also, it suggests a 5- or 7-day course to be superior to a 3-day course. This recommendation, however, is based on findings from a single randomized controlled trial that showed the 7-day course to be superior to a 3-day course in bacteriological effectiveness at day 8–10.  A 5-day course and superiority of the 3-day course have never been studied in a controlled trial.
Therefore, Filip Jansåker, Hvidovre Hospital, Copenhagen University Hospital, Hvidovre, Denmark, and colleagues investigated if a 5-day course pivmecillinam 400 mg three times daily is superior to a 3-day course in women with uncomplicated UTI. 
The participants were randomized to receive blinded therapy of 5 days [5d] or 3 days followed by 2 days of placebo [3d] from May 2015 to November 2017. Clinical data were assessed using a validated questionnaire at inclusion (day-0), daily the following 7 days and once again within the 2nd to 6th week after the intervention. 180 (5d) and 188 (3d) participants were included in the study (mean age: 35.4 [5d] and 34.9 [3d]).
Main clinical endpoints were days to symptom resolution within 7 days after inclusion and proportions with clinical success at the end of the intervention. The main bacteriological endpoint was the proportion of participants with a significant reduction of bacteriuria (≥102 CFU/mL) in the 1st control urine sample. Bacteriological data were collected prior to intervention and twice between day 7 and 42.
Also Read: Study finds combination antibiotic Avycaz, safe and effective for complicated UTIs in children
Key findings include:
125 (70% [5d]) and 122 (66% [3d]) had a positive baseline urine culture.
Forty-four participants were lost to follow-up, leaving 161 [5d] and 163 [3d] participants for analysis, respectively.
Meantime to symptom resolution was 2.91 days and 2.94 days. 
Clinical success at the end of treatment occurred for 117 of 153 (76%) receiving the 5d-course and for 115 of 157 (73%) receiving the 3d course. 
Bacteriological success was seen in 92 of 104 (88%) participants given the 5d course and in 86 of 99 (87%) given the 3d course. 
Also Read: Diabetes medication SGLT-2 inhibitors do not cause UTI, reassures new study
"Given the risk of adverse events, development of antimicrobial resistance and collateral damage associated with the length of antibiotic use, this study did not find evidence supporting that a 5 days course should be preferred over a 3 days course," concluded the authors.
To read the complete study follow the link: https://doi.org/10.1016/j.eclinm.2019.06.009