Pain of fibromyalgia not imaginary,brain scans reveal inflammation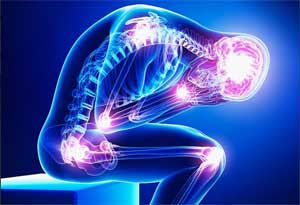 A new research published in the journal Brain, Behavior, and Immunity reveals that people with fibromyalgia have widespread inflammation in their brainThis suggests that pain of fibromyalgia isn't imaginary,it has organic basis.
Fibromyalgia (FM) is a poorly understood chronic condition characterized by widespread musculoskeletal pain, fatigue, and cognitive difficulties. While mounting evidence suggests a role for neuroinflammation, no study has directly provided evidence of brain glial activation in FM.
"We don't have good treatment options for fibromyalgia, so identifying a potential treatment target could lead to the development of innovative, more effective therapies," explained senior study author Marco Loggia. "And finding objective neurochemical changes in the brains of patients with fibromyalgia should help reduce the persistent stigma that many patients face, often being told their symptoms are imaginary and there's nothing really wrong with them, "he added.
Read Also: BCG Vaccine may well be fibromyalgia treatment in future
Marco Loggia and associates conducted a Positron Emission Tomography (PET) study using [11C]PBR28, which binds to the translocator protein (TSPO), a protein upregulated in activated microglia and astrocytes.
This collaborative project combines data from two independent research centers: Massachusetts General Hospital (MGH) in Boston, MA, United States, and Karolinska Institutet (KI) in Stockholm, Sweden.
Previous research from the Karolinska group led by Eva Kosek, MD, Ph.D., co-senior author of the current study, suggested a potential role for neuroinflammation in the condition including elevated levels of inflammatory proteins in the cerebrospinal fluid but no previous study has directly visualized neuroinflammation in FM patients.
The new research using an advanced imaging test called positron emission tomography (PET) looked at 31 people with FM and 27 healthy "controls" from Boston and Stockholm, Sweden.
All of the volunteers in the study underwent PET scans. Fibromyalgia patients in Boston were heavier than the healthy controls in Boston, and those in Stockholm with fibromyalgia. The researchers said this was the only significantly different variable between the two groups.
Read Also: Mirtazapine : an effective treatment option for Fibromyalgia
The results from both centers found that glial activation in several regions of the brains of fibromyalgia patients was significantly greater than it was in control participants. Compared to the MGH team's chronic back pain study, TSPO elevations were more widespread throughout the brain, which Loggia indicates corresponds to the more complex symptom patterns of fibromyalgia. The Karolinska team's studies with the astrocyte-binding tracer found little difference between patients and controls, suggesting that microglia were primarily responsible for the increased neuroinflammation in fibromyalgia patients.
"The activation of glial cells we observed in our studies releases inflammatory mediators that are thought to sensitize pain pathways and contribute to symptoms such as fatigue," says Loggia, an assistant professor of Radiology at Harvard Medical School. "The ability to join forces with our colleagues at Karolinska was fantastic because combining our data and seeing similar results at both sites gives confidence to the reliability of our results."
For reference log on to https://doi.org/10.1016/j.bbi.2018.09.018
Source : With inputs from the journal Brain, Behavior, and Immunity