Omega-3 fatty acids may prevent recurrent gout attacks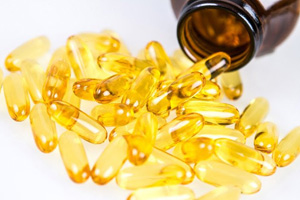 Omega-3 fatty acids may prevent recurrent gout attacks, finds a study.
Dietary consumption of omega‐3 polyunsaturated fatty acid (n‐3 PUFA) from fatty fish reduces the risk for recurrent gout flares, according to a recent study published in the journal Arthritis & Rheumatology. The study further found that this risk was not reduced upon the consumption of n‐3 PUFA in the form of supplements.
The recurrence of gout flare remains high despite the gout management with urate-lowering therapy. Thereby, arises the need for alternative management options. Previous studies have demonstrated the anti-inflammatory role of omega-3 PUFA and its efficacy in several arthritic conditions but there are no studies examining its role in gout. Tuhina Neogi, Boston University School of Medicine, Boston, MA, USA, and colleagues conducted the study to determine the relationship between omega‐3 polyunsaturated fatty acid consumption (dietary or supplemental) and risk of gout flares.
The researchers used data from the Boston University Online Gout Study, an internet‐based, case‐crossover study conducted from 2003‐2012 consisting of 724 patients with gout (mean age, 54.5 years; 78.5% men; 88.7% white; mean body mass index, 32.1 kg/m2; mean disease duration, 8.0 years). Individuals completed online questionnaires during gout flares (hazard period) as well as every 3 months during flare-free stretches (control period), reporting dietary and supplemental omega-3 PUFA exposures during the 48 hours immediately prior.
Primary outcomes were the odds of having a gout flare during hazard and control periods; secondary outcomes were flare risk by omega-3:omega-6 ratios.
Key findings of the study include:


Of those enrolled in the study, 85% had acute gout according to the 1977 American College of Rheumatology criteria, and 48% were taking some type of gout medication.


When completing online surveys, 22% of patients reported consuming omega-3 PUFA in some form (19% dietary and 4.6% as supplements) within the preceding 48 hours.


Following multivariable adjustment, compared with no consumption, omega-3 PUFA supplementation (via fish oil, cod liver oil, or direct supplements) did not have an effect on recurrent flare risk, but consuming any quantity of fatty fish significantly lowered flare risk by 33%.


In a dose-response manner, eating 1 serving of omega-3 PUFA-rich fatty fish numerically reduced flare risk, while consumption of ≥2 servings significantly decreased the risk for recurrent gout flares.


"Our study highlights the potentially beneficial effect of [omega-3] PUFA for limiting the symptom burden from acute flares in gout," write the authors.
"Consumption of specific sources and adequate doses of [omega-3] PUFA for gout flare prevention warrants further study in an adequately powered clinical trial," they concluded.
For detailed study log on to https://doi.org/10.1002/art.40896
Source : With inputs from �Arthritis & Rheumatology