................................ Advertisement ................................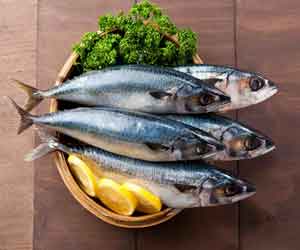 Omega-3 fatty acids from a fish lower risk of exercise-induced Heart attack finds a study.
Finland: Long-chain omega-3 polyunsaturated fatty acids (PUFA) from fish are known to provide protection from coronary heart disease (CHD). However, methylmercury present in fishes is associated with a higher risk of CHD and may diminish the cardioprotective effect of long-chain omega-3 PUFA.
A recent study published in the BMJ journal Heart has found that a higher circulating concentration of the omega-3 fatty acids lowered the risk of exercise-induced myocardial ischemia, only in men with a CHD risk. And, a higher concentration of hair mercury was associated with a higher occurrence of exercise-induced myocardial ischemia.
................................ Advertisement ................................
Omega-3 fatty acids are a class of essential polyunsaturated fatty acids with the double bond in the third carbon position from the methyl terminal (hence the use of "3" in their description). Foods high in omega-3 fatty acids include salmon, halibut, sardines, albacore, trout, herring, walnut, flaxseed oil, and canola oil. Other foods that contain omega-3 fatty acids include shrimp, clams, light chunk tuna, catfish, cod, and spinach.
Myocardial ischemia, also called cardiac ischemia occurs due to reduced blood flow to the heart, resulting in insufficient oxygen supply to the heart muscle. The reduced blood flow is usually the result of a partial or complete blockage of your heart's arteries (coronary arteries). It reduces the ability of the heart muscle to pump blood. It can lead to a heart attack or can cause abnormal heart rhythm.
................................ Advertisement ................................
Behnam Tajik, Institute of Public Health and Clinical Nutrition, University of Eastern Finland, Kuopio, Finland, and colleagues investigated the associations of serum long-chain omega-3 PUFA and hair mercury with the odds for myocardial ischemia during exercise.
The study involved analysis of 2199 men aged 42–60 years from the Kuopio Ischaemic Heart Disease Risk Factor Study from 1984–89. The men performed a maximal symptom-limited exercise stress test using an electrically braked bicycle ergometer. ORs for exercise-induced myocardial ischemia were estimated with logistic regression.
Also Read: Omega-3 fatty acids from fish oil, may aid healing after heart attack
On analysis, they found that:
Of the 2199 men, 342 had a history of CHD.
In the multivariable analysis, those in the highest versus lowest serum long-chain omega-3 PUFA quartile had 33% lower odds of myocardial ischemia. The association was stronger among those with CHD history, than among those without.
Higher hair mercury concentration was associated with increased odds for myocardial ischemia in the entire population.
Also Read: Omega-3 fatty acids do not decrease death risk from heart attack or cancer
Based on the study, the authors concluded that higher circulating concentrations of the long-chain omega-3 PUFAs, a marker for fish consumption, were associated with a lower occurrence of exercise-induced myocardial ischemia, but only among men with CHD history. Hair mercury concentration was directly associated with the occurrence of exercise-induced myocardial ischemia in the entire study population.
Medha Baranwal joined Medical Dialogues as an Editor in 2018 for Speciality Medical Dialogues. She covers several medical specialties including Cardiac Sciences, Dentistry, Diabetes and Endo, Diagnostics, ENT, Gastroenterology, Neurosciences, and Radiology. She has completed her Bachelors in Biomedical Sciences from DU and then pursued Masters in Biotechnology from Amity University. She has a working experience of 5 years in the field of medical research writing, scientific writing, content writing, and content management. She can be contacted at medha@medicaldialogues.in. Contact no. 011-43720751
To know about our editorial team click here
................................ Advertisement ................................