Interruption in statin therapy increases death risk, finds JAMA study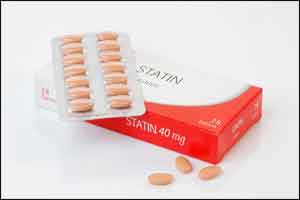 Continuity is the key, interruption in statin therapy increases death risk, finds a new study.
In a cohort study scientists of Stanford University in collaboration with Baylor College of Medicine and Veterans Affairs Health System of California, have found that Lower adherence to statin therapy, was associated with more deaths in patients with atherosclerotic cardiovascular disease (ASCVD). The study has appeared in JAMA Cardiology.
The study also concluded that Women, minorities, younger adults as well as among elderlies are less likely to adhere to statins and suggested that clinicians should keep a track and promote adoption statins among ASCVD patients.
The study was conducted in order to ascertain the association between statin adherence and mortality in patients with ASCVD who have stable statin prescriptions.
Please also read-
Statins prevent from and halt progression of retinopathy in diabetes: JAMA
Atherosclerosis develops as plaque – fat, cholesterol and other cellular waste – build up inside your blood vessels, causing them to grow thick and stiff. This gradual process often restricts the flow of oxygenated blood and nutrients to organs and tissues. This condition often occurs in the heart and is very closely associated with the deposition of LDL cholesterol. Statins, or 3-hydroxy-methylglutaryl coenzyme A (HMG-CoA) reductase inhibitors, are strong inhibitors of cholesterol biosynthesis. They have emerged as the leading therapeutic class of lipid-lowering agents and are established in the primary and secondary prevention of coronary artery disease.
This retrospective cohort analysis included patients who were between ages 21 and 85 years and had 1 or more International Classification of Diseases, Ninth Revision, Clinical Modification codes for ASCVD on 2 or more dates in the previous 2 years without intensity changes to their statin prescription who were treated within the Veterans Affairs Health System between January 1, 2013, and April 2014.
Please also read-
Statins being overprescribed for CVD prevention, finds study
Of 347 104 eligible adults with ASCVD who had stable statin prescriptions, 5472 were women, 284 150 were white, 36 208 were African American, 16 323 were Hispanic, 4093 were Pacific Islander, 1293 were Native American, 1145 were Asian, and 1794 were other races. Patients taking moderate-intensity statin therapy were more adherent than patients taking high-intensity statin therapy. Women were less adherent, as were minority groups. Younger and older patients were less likely to be adherent compared with adults aged 65 to 74 years. During a mean (SD) of 2.9 (0.8) years of follow-up, there were 85 930 deaths. Compared with the most adherent patients (MPR ≥ 90%), patients with an MPR of less than 50% had a hazard ratio (HR; adjusted for clinical characteristics and adherence to other cardiac medications) of 1.30, those with an MPR of 50% to 69% had an HR of 1.21, and those with an MPR of 70% to 89% had an HR of 1.08.
The finding of the study suggested that patients with decreased or irregular adherence to statins are more prone to adverse outcomes of ASCVD than people who are committed to the medication. Moreover, clinicians should closely monitor patients repose statin therapy and promote adherence to it.
For further reference log on to :
doi:10.1001/jamacardio.2018.4936