Only close monitoring needed in Diabetic macular edema with good vision: JAMA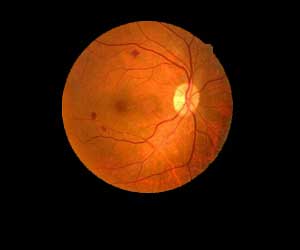 USA: Diabetic macular edema (DME) is the most common cause of vision loss among people with diabetic eye disease. DME is the result of fluid build-up in the central area of the retina, called the macula, which is important for sharp vision. Swelling of the macula can distort the vision required for reading and driving. Newly published results in the Journal of the American Medical Association indicates that a new approach for the treatment of DME may be in the loop.
The study found that among people with good vision despite having center-involved diabetic macular edema (CI-DME) can safely forego immediate treatment of their eye condition as long as they are closely monitored, and treatment begins promptly if vision worsens.
Laser photocoagulation has been the standard of care for the treatment of center-involved DME (CI-DME) from 1985 to 2010. After which several trials have demonstrated that injections of antivascular endothelial growth factor (anti-VEGF) agents into the vitreous of the eye (intravitreous injections) were superior to laser photocoagulation in eyes with CI-DME and visual acuity of 20/32 or worse. Since then, treatment of CI-DME with reduced visual acuity has largely transitioned from laser photocoagulation to intravitreous anti-VEGF injections, where available. But the best approach to treating patients with CI-DME and good visual acuity (20/25 or better) is unknown.
Carl W. Baker, Paducah Retinal Center, Paducah, Kentucky, and colleagues conducted the study to compare vision loss at 2 years among eyes initially managed with aflibercept, laser photocoagulation, or observation.
The trial included 702 participants with diabetic macular oedema and 20/25 vision or better, which is considered normal or near normal vision. At the start of the study, participants were randomly assigned to one of the following three management strategies for one of their eyes: 1) inject into the eye the anti-VEGF agent aflibercept (EYLEA®) as frequently as every four weeks, 2) perform laser photocoagulation, or 3) conduct observation of the participants.
Also Read: New powerful screening tool launched in India for diabetic eye diseases
Key findings of the study include:


During the two-year study, for eyes with visual acuity that decreased from baseline, aflibercept was initiated in 25% (60/240) and 34% (80/326) in the laser photocoagulation and observation groups, respectively.


Eyes that started aflibercept injections in the laser and observation groups required a similar number of injections overall compared to the group initially assigned to aflibercept.


After two years, the percentage of participants whose study eye met a prespecified threshold for visual acuity loss -- one or more lines on an eye chart -- did not differ among the groups: 16% of the aflibercept group, 17% of the laser group, and 19% in the observation group. The average visual acuity, which was 20/20 at baseline, remained 20/20 in all three groups at two years.


Antiplatelet Trialists' Collaboration vascular events occurred in 15 (7%), 13 (5%), and 8 (3%) participants in the aflibercept, laser photocoagulation, and observation groups.


Also Read: Consumption of diet soda linked to diabetic retinopathy
"We now know that in patients with good vision and diabetic macular oedema, similar to those enrolled in this trial, it's an acceptable strategy to closely monitor patients, and initiate treatment only if their vision starts to show signs of decline," said Dr Baker.
"This is an important study because of the public health implications for the treatment of the millions of patients with diabetic macular edema, who often present with good vision. Although no previous study has evaluated the treatment strategies for eyes with good vision and diabetic macular edema involving the center of the macula, clinicians have applied results from previous studies involving eyes with impaired vision vs eyes with good vision," Emily Y. Chew, National Eye Institute, National Institutes of Health, Bethesda, Maryland, writes in an accompanying editorial.
"Despite the availability of therapies for diabetic retinopathy, it is imperative that clinicians educate patients about the importance of medical therapies including tight glycemic control and blood pressure control as well as appropriate treatment of dyslipidemia in reducing the risk of development and progression of diabetic retinopathy and other microvascular complications," she concluded.
For detailed study follow the link:
doi:10.1001/jama.2019.5790
Source : With inputs from Journal of the American Medical Association�