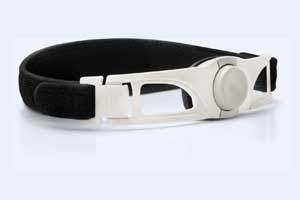 A new wearable over-the-counter Reflux Band device for individuals ≥18 years to reduce the symptoms of laryngopharyngeal reflux (LPR) disease by reducing the regurgitation of stomach contents from passing through the upper esophageal sphincter was successfully launched, announced Somna Therapeutics.  Previously, it was only available by prescription under the brand name Reza Band.
The device is worn around the neck during sleep and applies slight external pressure to the cricoid cartilage area. This increases the internal pressure of the upper esophageal sphincter (UES), preventing acid reflux from passing beyond the UES barrier.
Reflux Band is for adults who suffer from symptoms caused by acid reflux, which can include:
Nighttime regurgitation
A feeling of throat burn
A constant cough or throat clearing
Hoarse voice
A sore throat and difficulty swallowing
Postnasal drip
Reflux-induced sleep disruption
Read Also: Reza Band a wearable device available for Acid Reflux Disease

Several clinical trials assessing the safety and effectiveness of the device have been conducted over the last 5 years. The study results demonstrated that the Reflux Band is a safe and effective method for the treatment of esophagopharyngeal reflux. 86% of patients had a successful outcome with a significant reduction in symptoms after two weeks. The physicians reported being satisfied with the Reflux Band 92% of the time and patients were satisfied 75% of the time, with 59% being very satisfied.
Study results indicate that the Reflux Band is a non-invasive method that provides benefit within the first two weeks and the benefit is maintained. There is no indication that there is any residual or cumulative risk with the use of this device.
The device is contraindicated for the use in patients with an implanted pacemaker, implanted cardioverter defibrillator, a vagus nerve stimulator, or other similar devices implanted in the chest or neck. The Reflux Band was FDA cleared in 2015.