New drug effective for treatment of rheumatoid arthritis-The Lancet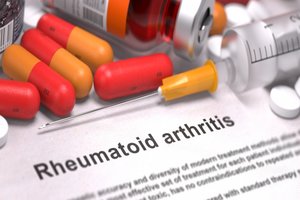 A new drug was found safe and effective in treating patients with moderate to severe forms of rheumatoid arthritis who have shown an inadequate response to conventional disease-modifying drugs, reports a study published in the journal The Lancet.
Gerd Rudiger Burmester and associates conducted a study to assess the efficacy of upadacitinib in patients with an inadequate response to 'conventional synthetic disease-modifying antirheumatic drugs'.
Upadacitinib is a selective inhibitor of the enzyme Janus kinase 1 (JAK1) and has been shown to be efficacious in this patient group in earlier phase II clinical trials. By inhibiting JAK1, upadacitinib disrupts an important signaling pathway that is responsible for triggering inflammatory responses.
The double-blind, placebo-controlled trial enrolled patients aged 18 years or older with active rheumatoid arthritis for 3 months or longer, who had received csDMARDs for at least 3 months with a stable dose for at least 4 weeks before study entry, and had an inadequate response to at least one of the following csDMARDs: methotrexate, sulfasalazine, or leflunomide.
Read Also:Vitamin D improves quality of life in Rheumatoid Arthritis patients
The researchers randomly assigned 661 patients receiving stable background csDMARDs (2:2:1:1) to receive a once-daily extended-release formulation of upadacitinib 15 mg or 30 mg, or placebo, for 12 weeks. Patients, investigators, and the funder were masked to allocation.
The results of the phase 3 trial showed that patients treated with upadacitinib showed significant improvements in joint swelling when compared to patients receiving placebo. Patients also experienced less pain and showed improvements in joint function.
The study concluded that patients with moderately to severely active rheumatoid arthritis who received upadacitinib (15 mg or 30 mg) in combination with csDMARDs showed significant improvements in clinical signs and symptoms.
Rheumatoid arthritis is a painful inflammatory condition affecting the joints and tendons, which is typically characterized by periods of increased disease activity.
Source : With inputs from the journal The�Lancet