Vitamin D improves quality of life in Rheumatoid Arthritis patients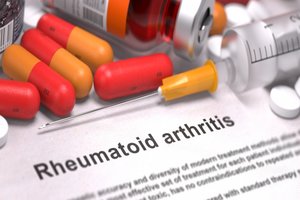 Vitamin D supplementation could significantly improve quality of life for Rheumatoid Arthritis(RA) patients, according to the findings, announced at the 70th AACC Annual Scientific Meeting & Clinical Lab Expo. The severity of the disease is aggravated in RA patients with lower levels of Vitamin D.
There is no ultimate cure for this autoimmune disease and treatment with powerful therapies such as biologic or disease-modifying antirheumatic drugs can lead to remission of symptoms. However, research shows that within a year of achieving remission, half of RA patients relapse due to patients tapering or stopping medication to reduce negative side effects, as well as the fact that some individuals develop antibodies that inhibit biologic drugs in particular.
A treatment needs to be more efficacious and sustainable so that more RA patients can benefit from long-lasting remission. Treatment involving Vitamin D could be much beneficial in such cases as it is a critical modulator of immune activity. Previous findings have suggested that Rheumatoid Arthritis is liked to vitamin D deficiency. No previous studies, however, have assessed how vitamin D levels impact the clinical course of this condition.
Read Also
:
Some rheumatoid arthritis Treatments linked to Improvement in BP
Tomas De Haro Munoz and his associates conducted a study to investigate the relationship between vitamin D levels and the severity of RA symptoms. They measured levels of 25-hydroxyvitamin D (25(OH)D)—a marker of vitamin D status—in blood samples from 78 patients with Rheumatoid Arthritis and 41 healthy controls. The researchers also recorded whether the RA patients had active disease or were in remission.
The investigators did a statistical analysis of 25(OH)D measurements which showed that, overall, the RA patients had low 25(OH)D concentrations compared to healthy individuals, with only 33% of RA patients displaying adequate vitamin D levels. Moreover, 25(OH)D levels were even lower in patients who had active disease and displayed more severe symptoms, such as a higher number of painful and inflamed joints, compared to patients in remission.
"According to the results obtained, we have observed that vitamin D deficiency is associated with the activity of [RA]," said Jose Luis Garcia de Veas Silva, Ph.D., a co-author of this study. "Patients with active disease had lower levels of vitamin D than those with the disease in remission. Our results indicate that vitamin D supplementation should be considered in the treatment of patients with RA."
The authors concluded that the findings suggest that targeting vitamin D deficiency could potentially be key to helping patients achieve and maintain RA remission.
Source : press release