................................ Advertisement ................................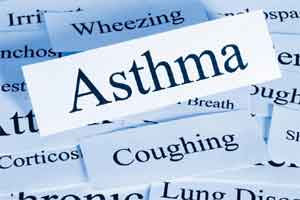 A genetic biomarker of asthma that can be tested using a simple nasal brush and basic follow-up data analysis, has been identified by the researchers, according to a study recently published in the journal Scientific Reports.  Asthma diagnosis using the biomarker is very inexpensive which can accurately identify mild to moderate asthma and differentiate it from other respiratory conditions such as allergic rhinitis, smoking, upper respiratory infection, and cystic fibrosis.
"Mild to moderate asthma can be difficult to diagnose because symptoms change over time and can be complicated by other respiratory conditions," said Dr. Supinda Bunyavanich, physician, and researcher at the Icahn School of Medicine. "Our nasal brush test takes seconds to collect — for time-strapped clinicians, particularly primary care providers at the frontlines of asthma diagnosis, this could greatly improve patient outcomes through early and accurate diagnosis."
Gaurav Pandey and his associates conducted a study to identify a nasal brush-based classifier of mild/moderate asthma.
................................ Advertisement ................................
The study performed nasal brushing on 190 participants including 66 subjects with well-defined mild to moderate persistent asthma (based on symptoms, medication need, and demonstrated airway hyper-responsiveness by methacholine challenge) and 124 subjects without asthma (based on no personal or family history of asthma.)
 Data scientists leading the study applied machine learning algorithms to the genetic (RNA) data acquired from nasal brushes of patients with and without asthma. This robust data collection and machine learning analysis identified a 90-gene biomarker indicative of asthma status.
................................ Advertisement ................................
Similar genetic biomarker tests are currently being used in other disease areas, including MammaPrint and Oncotype DX, both used for certain types of breast cancer prognosis
The study concluded that using RNAseq data generated from cohorts, combined with a systematic machine learning analysis approach, helped the researchers to identify a nasal brush-based classifier that accurately distinguishes subjects with mild/moderate asthma from controls. Additionally, the classifier's low to zero rates of misclassification on external cohorts with non-asthma respiratory conditions supports the specificity of this asthma classifier. According to the authors, the results represent the first steps toward the development of a nasal biomarker of asthma.
Dr. Bunyavanich says the next step to bringing this test into clinical practice is a study in a larger population of patients. "With prospective validation in large cohorts, our asthma biomarker could lead to the development of a minimally invasive test to aid asthma diagnosis at clinical frontlines where time and resources often preclude pulmonary function testing."
Currently, pulmonary function testing (PFT) is the most reliable diagnostic tool for asthma. However, access to the equipment and expertise needed to perform these tests is not always prevalent in primary care settings where asthma is frequently diagnosed and treated. It is also difficult to differentiate between asthma and other respiratory diseases using PFT alone, while the nasal brush and subsequent analysis for this asthma biomarker provide a binary result of asthma or not asthma.
Vinay Singh joined Medical Dialogue as Desk Editor in 2018. He covers the medical speciality news in different medical categories including Medical guidelines, updates from Medical Journals and Case Reports. He completed his graduation in Biotechnology from AAIDU and did his MBA from IILM Gurgaon. He can be contacted at editorial@medicaldialogues.in . Contact no. 011-43720751