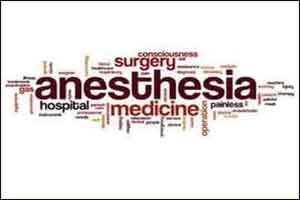 The use of neuromuscular blockers during general anaesthesia is associated with a significantly increased risk of several respiratory complications after surgery, reports a study published in the journal The Lancet Respiratory Medicine.
The most common complications involving the respiratory system were a reduced capacity of the lung transiently to absorb oxygen (5.2%), and infections of the lung and respiratory tract (2.5%). Roughly three-quarters of all patients (17150 people) were treated with neuromuscular blocking agents. They were shown to have a significantly higher risk (+4.4%) of developing any type of respiratory complication.
Anaesthetics make patients unconscious during an operation and prevent them from feeling pain. Muscles, however, are not paralyzed by these drugs and may still move. "To prevent this, we also use muscle relaxants or, more precisely, neuromuscular blocking agents," says Professor Manfred Blobner, an anesthesiologist at TUM's Clinic for Anesthesiology and Intensive Care.
Eva Kirmeier and associates conducted a major prospective observational European study called POPULAR supported by the European Society of Anaesthesiology (ESA) and led by the Technical University of Munich (TUM), study to assess whether the use of neuromuscular blocking agents is associated with postoperative pulmonary complications.
The study included patients (aged ≥18 years) who received general anaesthesia for any in-hospital procedure except cardiac surgery.
The study found that the use of neuromuscular blocking agents was associated with an increased incidence of postoperative pulmonary complications in patients who had undergone general anaesthesia.
Read Also: Mayo Clinic   study : Anesthesia, surgery linked to decline in memory and thinking
The data from POPULAR, however, showed that established techniques used to avoid residual neuromuscular block do not lower the patients' risk of pulmonary complications. Moreover, neither drugs reversing the effects of the muscle relaxants nor monitoring of neuromuscular function during anaesthesia to make sure that the muscle function is completely recovered did change the respiratory outcome.
"We showed that the use of neuromuscular blocking drugs in general anaesthesia is associated with an increased risk of postoperative pulmonary complications. Anaesthetists must balance the potential benefits of the neuromuscular blockade against the increased risk of postoperative pulmonary complications." write the authors.
For reference log on to
https://www.thelancet.com/journals/lanres/article/PIIS2213-2600(18)30294-7/fulltext