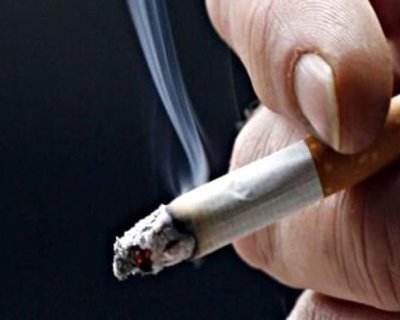 A new study published in the European Journal of Preventive Cardiology finds that more the person smokes, the higher is the risk of developing atrial fibrillation — a heart rhythm disorder.
The study, conducted by Dagfinn Aune, a postdoctoral researcher at Imperial College London, UK, and colleagues, found a 14% increase in the risk of atrial fibrillation for every ten cigarettes smoked per day. There was a linear dose-response relationship, meaning that the risk increased with each additional cigarette smoked.
"If you smoke, stop smoking and if you don't smoke, don't start," said study author Dr.  Aune. "We found that smokers are at increased risk of atrial fibrillation, but the risk is reduced considerably in those who quit."
Atrial fibrillation (AF) is the most common heart rhythm disorder (arrhythmia). It causes 20–30% of all strokes and increases the risk of dying prematurely.
Epidemiological studies on smoking and AF have been inconsistent, with some studies showing a positive association while others have found no association. It is also unclear whether there is a dose-response relationship between the number of cigarettes smoked or pack-years and the risk of atrial fibrillation. So, the present study was aimed to conduct a systematic review and meta-analysis to clarify this association.
Smoking is a lethal addictive disorder. A lifetime smoker has a 50% probability of dying due to smoking, and on average will lose ten years of life. Slightly less than half of the lifetime smokers will continue smoking until death.
Read Also: Smoking increases the risk of heart failure : Study
For the study, the authors conducted a meta-analysis of 29 prospective studies from Europe, North America, Australia, and Japan with a total of 39,282 incident cases of atrial fibrillation among 677,785 participants.

Key Findings of the Study:
Compared to people who had never smoked, current smokers had a 32% increased risk of atrial fibrillation, while ever smokers (current and former smokers combined) had a 21% increased risk, and former smokers had a 9% increased risk – providing further evidence of a dose-response relationship.
Compared to zero cigarettes per day, smoking five, ten, 15, 20, 25 and 29 cigarettes per day was associated with a 9%, 17%, 25%, 32%, 39%, and 45% increased risk of atrial fibrillation, respectively.
Every ten pack-years of smoking was associated with a 16% increased risk of developing atrial fibrillation. Pack-years are calculated by multiplying the number of packs of cigarettes smoked per day by the number of years the person has smoked.
Read Also: Smoking, Alcohol increase lifetime risk of AF : BMJ
European guidelines on the prevention of cardiovascular disease recommend avoiding tobacco in any form. All types of smoked tobacco, including low-tar ("mild" or "light") cigarettes, filtered cigarettes, cigars, pipes, and water pipes are harmful.
Dr. Aune said: "Our results provide further evidence of the health benefits of quitting smoking and, even better, to never start smoking in the first place. This is important from a public health perspective to prevent atrial fibrillation and many other chronic diseases."
Dr. Aune noted that more research is needed to identify the duration of smoking cessation needed to reduce the risk of atrial fibrillation and whether the risk at some point reaches that of people who have never smoked.
"The current meta-analysis suggests that smoking is associated with an increased risk of atrial fibrillation in a dose-dependent matter, but the association is weaker among former smokers compared to current smokers," concluded the authors.
For further information follow the link: https://doi.org/10.1177/2047487318780435