................................ Advertisement ................................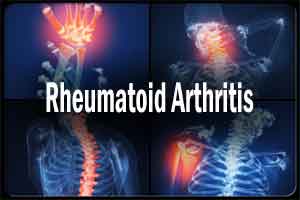 UK: The use of methotrexate (MTX) in rheumatoid arthritis (RA) patients is not associated with an increased risk of interstitial lung disease (ILD), according to a recent study. In contrast, evidence from the study, published in the journal BMJ Open, suggests that MTX treatment may delay the onset of ILD.
Methotrexate is the recommended first-line treatment for rheumatoid arthritis. Hypersensitivity pneumonitis is a rare side effect of MTX that occurs within the first year of treatment. This hypersensitivity reaction led to the concern that MTX use might also be associated with an increased incidence or exacerbation of the interstitial lung disease that is associated with RA and may be a reason to withhold MTX from RA patients with any lung disease. Evidence that MTX may cause or have an adverse impact on RA-ILD is sparse.
Patrick Kiely, Department of Rheumatology, St Georges University Hospitals NHS Foundation Trust, London, UK, and colleagues assessed predictive factors for rheumatoid arthritis interstitial lung disease (RA-ILD) in two early RA inception cohorts with a focus on methotrexate exposure.
................................ Advertisement ................................
The researchers analyzed 2701 patients with a new diagnosis of RA. Data on demographics, drug therapies and clinical outcomes including the presence of RA-ILD  were collected at baseline, within 3–6 months, at 12 months and annually thereafter. The primary outcome was the association of MTX exposure on RA-ILD diagnosis.
Also Read: Methotrexate may protect rheumatoid arthritis patients against heart disease
................................ Advertisement ................................
They found that:
Of 92 eligible ILD cases, 39 occurred in 1578 (2.5%) MTX exposed and 53 in 1114 (4.8%) non-MTX exposed cases.
The primary analysis of RA-ILD cases only developing after any conventional synthetic disease-modifying antirheumatic drug treatment (n=67) showed MTX exposure not to be associated with incident RA-ILD and a non-significant trend for delayed ILD diagnosis. In an extended analysis including RA-ILD cases present at RA diagnosis (n=92).
MTX exposure was associated with a significantly reduced risk of incident RA-ILD and longer time to ILD diagnosis.
Other independent baseline associations with incident RA-ILD were higher age of RA onset, ever smoking, male gender, rheumatoid nodules and longer time from first RA symptom to first outpatient visit.
Also Read: Statins effective  in rheumatoid arthritis patients at high risk of heart attack
" The conclusion from our findings is that MTX has no association with the development of RA-ILD and may lead to a delayed onset and lower incidence of RA-ILD perhaps as a consequence of better overall RA disease control or specific lung-mediated immune suppression, wrote the authors.
Medha Baranwal joined Medical Dialogues as an Editor in 2018 for Speciality Medical Dialogues. She covers several medical specialties including Cardiac Sciences, Dentistry, Diabetes and Endo, Diagnostics, ENT, Gastroenterology, Neurosciences, and Radiology. She has completed her Bachelors in Biomedical Sciences from DU and then pursued Masters in Biotechnology from Amity University. She has a working experience of 5 years in the field of medical research writing, scientific writing, content writing, and content management. She can be contacted at medha@medicaldialogues.in. Contact no. 011-43720751
To know about our editorial team click here
................................ Advertisement ................................