................................ Advertisement ................................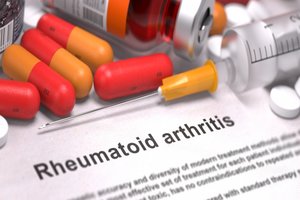 Methotrexate provides protection against heart disease in rheumatoid arthritis patients.
CANADA: A recent study has demonstrated an association between methotrexate (MTX) use and the risk of cardiovascular events (CVE) in patients with rheumatoid arthritis (RA). The study, published in the Journal of Rheumatology has found that recent continuous MTX use resulted in a 20% decrease in CVE including heart attack and heart failure in RA patients.
Jessica Widdifield, Sunnybrook Research Institute, Holland Bone and Joint Research Program, Toronto, Ontario, and colleagues conducted the study to evaluate the associations between time-varying methotrexate use and risk of cardiovascular events in patients with rheumatoid arthritis.
................................ Advertisement ................................
Rheumatoid arthritis is a chronic inflammatory disease of joints.  Commonly it is characterized by pain, swelling, and stiffness of joints and is treated using synthetic and biological antirheumatic drugs.  RA is more common in older people, but there is also a high prevalence in young adults, adolescents, and even children, and it affects women more frequently than men.
The researchers studied an inception cohort of 23,994 patients with RA diagnosed following their 65th birthday. Multivariable Cox regression models were fit to evaluate the associations between time-varying MTX use, controlling for other risk factors, and time to CVE. Alternative models assessed the cumulative duration of MTX use over the (1) first year, (2) previous year (recent use), and (3) entire duration of follow-up. The researchers also assessed whether the strength of the association varied over time.
................................ Advertisement ................................
Also Read: Statins effective  in rheumatoid arthritis patients at high risk of heart attack
Key findings of the study include:
Over 115,453 patient-years (PY), 3294 (13.7%) patients experienced a CVE (28.5 events per 1000).
In the multivariable analyses, the model assessing time-varying continuous use in the most recent year yielded the best fit.
Increasing recent MTX use was associated with lower CVE risks (HR 0.79 for continuous use vs no use in past 12 months).
Greater Methotrexate use in the first year after cohort entry was also protective, but this effect decreased with increasing follow-up.
In contrast, longer Methotrexate use during the entire followup was not clearly associated with CVE risk.
Also Read: Vagus nerve stimulation shows promise in treatment of rheumatoid arthritis
................................ Advertisement ................................
"We observed a 20% decrease in CVE associated with recent continuous Methotrexate use. Greater Methotrexate use in the first year of cohort entry also appeared to be important in the association between Methotrexate and CVE risk," concluded the authors.
For detailed study log on to https://doi.org/10.3899/jrheum.180427
Author Details
Medha Baranwal joined Medical Dialogues as an Editor in 2018 for Speciality Medical Dialogues. She covers several medical specialties including Cardiac Sciences, Dentistry, Diabetes and Endo, Diagnostics, ENT, Gastroenterology, Neurosciences, and Radiology. She has completed her Bachelors in Biomedical Sciences from DU and then pursued Masters in Biotechnology from Amity University. She has a working experience of 5 years in the field of medical research writing, scientific writing, content writing, and content management. She can be contacted at medha@medicaldialogues.in. Contact no. 011-43720751
To know about our editorial team click here
................................ Advertisement ................................