Mediterranean diet protects from depression, finds large study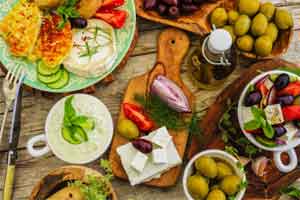 Adhering to a Mediterranean diet rich in fish, nuts, vegetables, and olive oil - but little meat or dairy could help in lowering a person's risk of depression, according to a new study published in the journal Molecular Psychiatry. The diet also appears to have benefits in terms of mood.
Camille Lassale, Department of Epidemiology and Public Health, University College London, London, United Kingdom, and colleagues conducted this systematic review to synthesize the link between diet quality, measured using a range of predefined indices, and depressive outcomes.
Depression, characterized by low mood, loss of interest or pleasure in life, and disturbed sleep or appetite, affects over 300 million people globally, which represents a global prevalence of 7% for women and 4% for men. Depression is a leading cause of disease burden and a major contributor to global disability. According to the World Health Organization, depressive and anxiety disorders cost the global economy $1 trillion in lost productivity each year.
Despite significant developments, conventional treatment is effective only in one in three cases of mood disorder. Moreover, the condition is often recurrent, with relapse apparent in 50% of cases.
The researchers analyzed 41 studies published within the last 8 years on the links between diet and depression.
Key Findings:


The researchers found a connection between people's diet and their chances of developing depression.


People who followed a strict Mediterranean diet had a 33 percent lower risk of being diagnosed with depression compared to people who were least likely to follow these eating habits.


People who ate foods containing a lot of fat, sugar and processed meats were more likely to suffer from depression.


"There is compelling evidence to show that there is a relationship between the quality of your diet and your mental health," Dr. Lassale told 'CNN'. "This relationship goes beyond the effect of diet on your body size or other aspects of health that can, in turn, affect your mood."
Findings were based on 5 longitudinal studies of 32 908 adults from Spain, France, the United Kingdom, Australia, and the United States. Quoted in the British newspaper 'The Guardian', Lassale said: "Poor diet may increase the risk of depression as these are results from longitudinal studies which excluded people with depression at the beginning of the study. Therefore the studies looked at how diet at baseline is related to new cases of depression."
"Our review shows that there is observational evidence to suggest that both adhering to a healthy diet, in particular, a traditional Mediterranean diet, and avoiding a pro-inflammatory diet is associated with reduced risk of depressive symptoms or clinical depression," concluded the authors.
"That the majority of recovered studies were cross-sectional in design, with the problem of reverse causality being acute in the context of diet and depression, there is a clear need for more prospective studies. Moreover, while recent intervention studies provide preliminary evidence, further well-powered clinical trials are required to assess the role of dietary patterns in the prevention of onset, severity, and recurrence of depressive episodes."
For further reference follow the link:
https://doi.org/10.1038/s41380-018-0237-8
Source : With inputs from Molecular Psychiatry�