Management of Steroid-induced osteoporosis - NEJM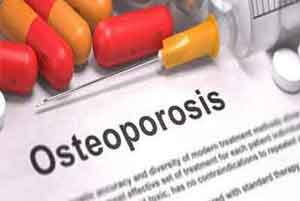 Long-term use of glucocorticoids is associated with clinically significant toxic effects. Nearly 1% of all adults and 3% of adults older than 50 years of age receive glucocorticoids for allergies, inflammatory conditions, or cancer. Fracture is the most common serious and preventable adverse event associated with these agents. The risk of fracture increases with age and with the dose and duration of glucocorticoid use.
A review article published in the NEJM regarding Glucocorticoid-induced osteoporosis (GIOP) highlighted the patients at risk, the consequences, treatments (including calcium, vitamin D, bisphosphonates, anabolic and biologic therapies), guidelines, and recommendations.
Read Also: Mediterranean Diet good for people with osteoporosis

The key clinical points of the review included are:
Glucocorticoid-Induced Osteoporosis


Risk factors for glucocorticoid-induced fractures include age (>55 years), female sex, white race, and long-term use of prednisone at a dose of more than 7.5 mg per day.


Screening for fracture risk should be performed soon after the initiation of glucocorticoid treatment. The risk of fracture among patients who are 40 years of age or older can be estimated with the use of bone mineral density testing and the fracture risk assessment tool (FRAX).


Patients who receive glucocorticoids should be counseled about adequate intake of calcium and vitamin D, weight-bearing exercise, and avoidance of smoking and excessive alcohol intake.


Pharmacologic treatment is strongly recommended for anyone who has had a fracture and for patients who are at least 40 years of age if, according to the FRAX tool, the risk of major osteoporotic fracture is 20% or higher or the risk of hip fracture is at least 3%. Among patients who are receiving glucocorticoids and have a bone mineral density T score of −2.5 or less (indicating osteoporosis) at either the spine or the femoral neck, pharmacologic treatment is also recommended for men who are 50 years of age or older and for postmenopausal women.


Bisphosphonates are recommended as first-line treatment of osteoporosis because of their low cost and safety.


The risk of fracture decreases rapidly when glucocorticoids are discontinued. Exposure to glucocorticoids should be minimized as much as possible.


Read Also: Men have 3 fold higher risk of repeat fracture in osteoporosis
Prevention of glucocorticoid-induced fractures requires identification of patients who should receive preventive treatment. Given the potential to recover bone mass, minimizing glucocorticoid use is the most important intervention to prevent fractures. Optimization of calcium and vitamin D intake, weight-bearing exercise, and strategies to prevent falls should be encouraged.
For full information log on to https://www.nejm.org/doi/full/10.1056/NEJMcp1800214
Source : With inputs from NEJM