Low Calcium intake by young women increases fracture risk in later life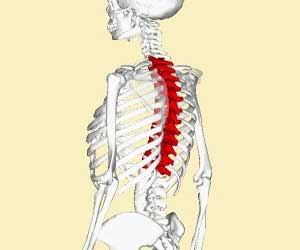 Oulu, Finland: Inadequate intake of calcium from the age of 31 to 46 predicts a small vertebral size and decreased spine resilence among middle-aged women, making them more prone to fracture, finds a new study published in the journal Osteoporosis International.
Vertebral fractures, one of the most typical complications of osteoporosis, are notoriously common among aging populations. Individuals with small vertebral size are at increased risk of fractures. Previous studies have established an association between calcium (Ca) intake and enhanced bone geometry in the appendicular skeleton, only a few reports have addressed the vertebrae or axial skeleton in particular.
Also Read: JAMA study raises doubts about risk of hip fracture with antidepressants
Petteri Oura, Medical Research Center Oulu, Oulu University Hospital and the University of Oulu, Oulu, Finland, and colleagues investigated the association of dairy- and supplement-based Ca intake in adulthood with the vertebral cross-sectional area (CSA) in midlife among a representative sample of 1064 Northern Finns who had undergone lumbar MRI at 46 years of age, and had provided self-reported data on diet and calcium intake at ages 31 and 46.
After adjusting for body mass index, diet, vitamin D intake, education, leisure-time physical activity, and smoking, the investigators used a generalized estimating equation and linear regression models to evaluate the link between calcium intake and vertebral cross-sectional area (CSA).
They found that women with inadequate Ca intake (< 800 mg/day) over the follow-up had 3.8% smaller midlife vertebral CSA than women with adequate Ca intake. However, Ca intake among men showed no association with vertebral CSA.
Also Read: New imaging technique may easily predict fracture risk
"Inadequate Ca intake (< 800 mg/day) from the age of 31 to 46 predicts small vertebral size and thus decreased spinal resilience among middle-aged women," concluded the authors, adding that, "future studies should confirm these findings and investigate the factors underlying the association of low Ca intake in women but not in men with smaller vertebral size."
For further reference follow the link:
https://doi.org/10.1007/s00198-019-04843-9
Source : With inputs from Osteoporosis International