Low BP can be tackled with exercise and proper hydration, reveals space research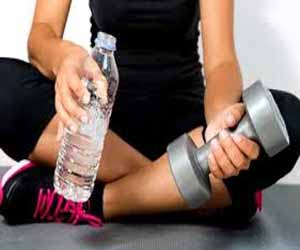 USA: An hour or more of daily exercise and proper hydration can control fainting or dizziness episodes in people with low blood pressure (BP) and can help in an overall improvement of the condition, according to a recent study on astronauts.
The astronauts generally experience orthostatic intolerance upon their return to earth when assessed on a tilt or quiet standing. But the more clinically relevant evaluation of post-flight orthostatic intolerance during activities of daily living (ADL) has not been touched by any of the studies.
The dizziness is related to low blood pressure after standing up from a sitting or lying down position. It results when blood rushes to the feet and away from the brain because of the movement. The phenomenon, known as orthostatic hypotension, has plagued the space program even before the Apollo 11 mission.
The study, published in the journal Circulation and funded by NASA, is the first to examine the condition orthostatic intolerance during daily activities after astronauts returned home. It found that exercise regimen during space flight and saline injections after landing were sufficient to prevent the condition from occurring.
The finding is good news for astronauts, but the findings extend to full-time Earthlings as well. The same fitness program is helping patients with postural orthostatic tachycardia syndrome (POTS), which most often affects women aged 13-50 years, said senior author and cardiologist Dr Benjamin Levine from UT Southwestern Medical Center.
"Doing an hour or more of daily exercise was sufficient to prevent loss of heart muscle, and when it was combined with receiving hydration on their return, the condition was prevented entirely. We expected to see up to two-thirds of the space crew faint. Instead, no one fainted," said Dr Levine.
For the study, the researchers used a small blood pressure cuff on astronauts' finger to measure blood pressure and every heartbeat. These measurements were taken during multiple 24-hour periods before, during, and after six months of spaceflight. 12 astronauts were involved - eight men and four women.
Also Read: Beware -Orthostatic hypotension may be sign of future cardiovascular disease
Key findings of the study include:


In contrast to previous studies which employed the use of tilt tables or stand tests, no astronaut experienced orthostatic intolerance/hypotension during ADLs before or after spaceflight.


Twenty-four-hour systolic BP decreased in space (120±10 pre- vs. 106±9 mmHg inflight), but it returned to normal upon landing (122±13 mmHg).


Diastolic BP was unchanged during and the following spaceflight.


Systolic and diastolic BP variability remained the same before, during and after spaceflight.


The skewness of systolic BP increased in space (0.74±0.51 vs. 1.43±1.00), indicating that signal fluctuations became asymmetrical; however, it returned to pre-flight levels after landing (0.51±0.42).


The kurtosis increased in space (5.01±7.67 vs. 11.10±11.79), suggesting that fluctuations concentrated around the mean with a narrow distribution, however, it also returned to pre-flight levels (2.21±2.56) after return to earth.


Also Read: Higher salt intake harmful in low BP light headedness, finds study
"Much of our early research was devoted to understanding why astronauts faint when they return from space. Now, we can prevent it from happening" writes Dr. Levine.
To read the complete study log on to
https://doi.org/10.1161/CIRCULATIONAHA.119.041050