Beware -Orthostatic hypotension may be sign of future cardiovascular disease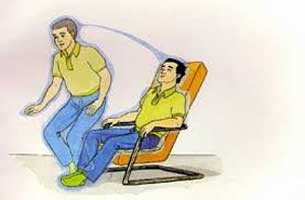 A rapid drop in blood pressure when standing from a lying down or sitting position -- called orthostatic hypotension (OH) -- might be associated with undiagnosed cardiovascular disease (CVD), according to a new study in Journal of the American Heart Association.
Stephen Juraschek, Instructor of Medicine at BIDMC and Harvard Medical School, and colleagues conducted the study to determine whether OH in community‐based middle‐aged adults without known coronary disease was associated with CVD.
Orthostatic hypotension is a frequently encountered clinical sign among patients. It is most often considered as an indicator of dehydration by clinicians. It is common in adults with hypertension and diabetes mellitus and is associated with several adverse health outcomes, including falls, syncope, and death.
Read Also: Latest JAMA study questions of orthostatic hypotension guidelines
Although OH has been associated with a change in heart structure over time, suggestive of a causal relationship, the association between OH and CVD in the literature is inconsistent.
For the study, the researchers analyzed data from 9,139 participants ages 45 to 64 who enrolled in the long-running Atherosclerosis Risk in Communities (ARIC) Study between 1987 and 1989. These participants were followed for cardiovascular events and mortality through Dec. 31, 2015.
Key Findings:


During follow‐up (median, 26 years),

OH

was associated with myocardial infarction (hazard ratio [

HR

], 1.88; 95% confidence interval [

CI

], 1.44–2.46), congestive heart failure (

HR

, 1.65; 95%

CI

, 1.34–2.04), stroke (

HR

, 1.83; 95%

CI

, 1.35–2.48), fatal coronary heart disease (

HR

, 2.77; 95%

CI

, 1.93–3.98), any

CHD

(

HR

, 2.00; 95%

CI

, 1.64–2.44), and all‐cause mortality (

HR

, 1.68; 95%

CI

, 1.45–1.95).



OH

was also associated with carotid intimal thickness (β, 0.05 mm; 95%

CI

, 0.04–0.07 mm), carotid plaque (odds ratio, 1.51; 95%

CI

, 1.18–1.93), detectable high‐sensitivity troponin T (odds ratio, 1.49; 95%

CI

, 1.16–1.93), and elevated

NT

‐pro

BNP

(odds ratio, 1.92; 95%

CI

, 1.48–2.49).


"OH was associated with all measures of subclinical cardiovascular disease and was an important predictor of clinical CVD events in the future," said Dr. Juraschek. "When orthostatic hypotension is detected in middle-aged adults who do not have known cardiovascular disease, health care practitioners should be mindful of undetected heart disease."
"While there is controversy surrounding the association between OH and cardiovascular disease, our findings were unequivocal and consistent," said Juraschek. "These findings strongly support our hypothesis about OH being an important manifestation of undetected CVD. Many treatments for OH such as increasing sodium intake or stopping blood pressure medications have the potential to worsen blood pressure control and risk for CVD. Clinicians should be aware of the possibility that undiagnosed CVD may be present in adults with OH prior to starting treatments."
Based on the study, the authors concluded that OH identified in community‐dwelling middle‐aged adults was associated with future CVD events and subclinical CVD. Further research is necessary to establish a causal role for OH in the pathogenesis of CVD.
For further information follow the link:
https://doi.org/10.1161/JAHA.118.008884
Source : With inputs from JAHA