Lorcaserin prevents Diabetes in overweight individuals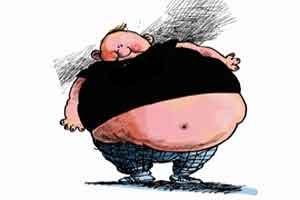 Lorcaserin decreases risk for incident diabetes, induces remission of hyperglycemia, and reduces the risk of microvascular complications in obese and overweight patients, according to a study published in the journal The Lancet. The results of the trial support the role of lorcaserin as an adjunct to lifestyle modification for chronic management of weight and metabolic health.
Obesity remains among the most difficult diseases to treat, with lifestyle changes not always leading to sufficient weight loss or sustained long-term results. The history of weight-loss medications has been challenging because of adverse effects restricting their application. Lorcaserin is a selective serotonin 2C receptor agonist that suppresses appetite.
Erin A Bohula and associates conducted a randomized, double-blind, placebo-controlled trial to evaluate the long-term effects of lorcaserin on diabetes prevention and remission.
"We can't say for sure there's more than one potential mechanism [behind the glycemic benefit], although my suspicion is that much of it is related to weight loss," Bohula stated during a press conference of the findings at the annual meeting of the European Association for the Study of Diabetes (EASD).
The study included overweight or obese patients (body-mass index ≥27 kg/m 2) with or at high risk for the atherosclerotic vascular disease. Eligible patients were aged 40 years or older; patients at high risk for the atherosclerotic vascular disease had to be aged 50 years or older with diabetes and at least one other risk factor.
Read Also: Trial confirms long-term cardiovascular safety of Obesity drug, Lorcaserin
The 12000 study participants were randomly assigned to receive either lorcaserin (10 mg twice daily) or matching placebo(600 in each group). Additionally, all patients had access to a standardized weight management programme based on lifestyle modification.
Key study findings:


At 1 year, patients treated with lorcaserin had a net weight loss beyond placebo of 2·6 kg for those with diabetes, 2·8 kg for those with prediabetes, and 3·3 kg for those with normoglycaemia.


Lorcaserin reduced the risk of incident diabetes by 19% in patients with prediabetes and by 23% in patients without diabetes.


Lorcaserin resulted in a non-significant increase in the rate of achievement of normoglycaemia in patients with prediabetes.


In patients with diabetes, lorcaserin resulted in a reduction of 0·33% in HbA 1c compared with placebo at 1 year.


In patients with diabetes at baseline, severe hypoglycemia with serious complications was rare but more common with lorcaserin.


Lorcaserin was originally FDA approved back in 2012 for chronic weight management as an adjunct therapy to lifestyle modification.
For reference log on to https://doi.org/10.1016/S0140-6736(18)32328-6
Source : With inputs from the journal The Lancet