Longer the duration of infertility lower the sperm count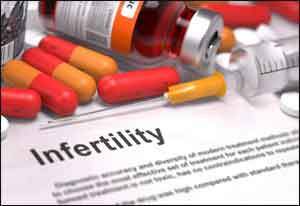 A new study published in BJU International has reported that lower sperm count and other parameters of impaired sperm was associated with longer duration of infertility. The study also revealed that older age and higher body mass index were associated with a longer duration of infertility.
Luca Boeri and associates performed a meta-analysis to assess the relationship between the duration of infertility (DI) and the seminal parameters of a cohort of White‐European primary infertile men.
The investigators analyzed the data from 1644 infertile men. Patients were grouped according to the self‐reported DI into 12‐month time frames.
Read Also: Prediabetic men at higher risk of infertility
The key study findings included are:


A DI of <12, 13–24, 25–36, 37–48, 49–60 and >60 months was found in 12.6%, 39.6%, 23.5%,10.2%, 5.6% and 8.4% men, respectively.


Patient's age and body mass index significantly increased along with DI.


Sperm concentration significantly decreased with DI.


Similarly, a higher rate of non‐obstructive azoospermia (NOA) was more frequently found in men with a longer DI.


There were no differences in semen volume, sperm progressive motility, total motile sperm count (TMSC), and normal morphology across groups.


DI was significantly associated with the risk of oligozoospermia.


The analysis showed that approximately 15 percent of couples of reproductive age fail to achieve a wanted pregnancy within a 12-month period, despite regular unprotected sexual intercourse.


Prolonged infertility has been considered a psychosocial stress for the infertile couple that may lead to poor marital adjustment and decreased the quality of life, but the potential role of the duration of infertility in terms of couple's reproductive health remains understudied.
Read Also: Male infertility treatable with Combo therapy
"Our results suggest that the duration of infertility should be considered a potential risk factor for impaired sperm parameters in infertile men. Also, infertile couples should be made aware of the associations found in this study," said lead author Dr. Luca Boeri.
The study concluded that DI had a negative impact on semen parameters in primary infertile men. and patients with a longer DI reported higher rates of azoospermia with a higher risk of oligozoospermia.
For full information log on to https://doi.org/10.1111/bju.14613
Source : With inputs from BJU International