Liver fat levels effectively monitored by MRI after bariatric surgery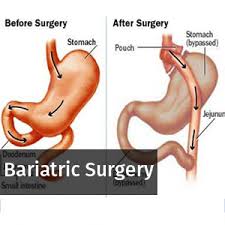 Liver fat levels after bariatric surgery can be effectively measured over time through a non -invasive quantitative chemical shift-encoded magnetic resonance imaging (CSE-MRI).
The study published in the journal Radiology revealed that decrease in liver fat content was strongly correlated with pretreatment liver fat content, but was weakly correlated with both starting weight and overall weight loss, suggesting that the greatest potential benefit is for patients with marked hepatic steatosis regardless of starting weight or weight loss.
Read Also: Bariatric Surgery lowers risk of Heart attack in Obese
Dustin Pooler and associates used the noninvasive MRI technique to measure average liver proton density fat fraction (PDFF) in 50 patients before bariatric surgery and at several points during the year afterward. They compared this MRI biomarker with postsurgical changes in body mass index (BMI), weight, and waist circumference.
The cohort study which included 43 women and seven men was recruited from 2010 to 2015 from medical centers at the University of California San Diego and the University of Wisconsin-Madison. The study participants had a mean age of 51.0 years and a mean BMI of 44.9 kg/m2.
The results supported prior MRI studies (largely MR spectroscopy) showing that a reduction of 5% or more in BMI is associated with decreases in liver fat, as well as other studies with similar conclusions relying on other measures of liver fat, including serum biomarkers.
The study suggested that reductions in liver fat relative to anthropometrics occur most rapidly, but more variable, during the first 6 weeks of the treatment course (short term) comprising the VLCD and early post-surgery periods. Following this short-term period of rapid loss, the decline slowed but persisted at a relatively steady rate through the final 6-month postsurgery mark (longer term), with a mean time to normalization of 22.5 weeks (approximately 5 months). But no difference was observed between the gastric sleeve and gastric bypass with regard to PDFF decline.
Read Also: Bariatric surgery increases testosterone levels in males
According to the authors, using a noninvasive accurate CSE MRI technique is the first longitudinal analysis of changes in liver fat over time in a bariatric surgery population. In addition to demonstrating the clinical utility and feasibility that CSE MRI provides in the monitoring of hepatic PDFF over time, the analysis provided a number of insights into reductions in liver fat content following bariatric surgery.
The study concluded that bariatric surgery with preoperative VLCD substantially improved hepatic steatosis in participants with obesity without a strong correlation with starting weight or overall weight loss, and with the greatest potential benefit observed in participants with marked hepatic steatosis.
For full information log on to https://pubs.rsna.org/doi/10.1148/radiol.2018181134
Source : With inputs from the journal Radiology