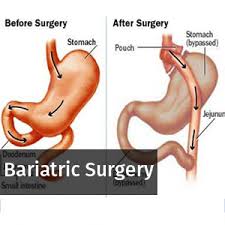 U.S.A: Obese people undergoing bariatric surgery have a significantly reduced risk of developing coronary heart disease (CHD), reports the findings of a study presented at ObesityWeek 2018, organized by the American Society for Metabolic and Bariatric Surgery (ASMBS) and The Obesity Society (TOS) in Nashville, Tennessee.
According to study co-author, Dr Emanuele Lo Menzo from the Cleveland Clinic Florida in Weston, bariatric surgery has the ability to lower the risk of developing CHD by 40% in both women and men.
In a retrospective study, the researchers reviewed all patients who underwent bariatric surgery from 2010 to 2016. The study included 225 obese patients ages ranging 30-74 years with no previous history of coronary heart disease.
In a similar study, Medical Dialogues has earlier reported that bariatric surgery may significantly reduce the risk for later death associated with heart failure
Read Also: Bariatric Surgery Reduces Later Heart Failure Deaths
The study found that twelve months after bariatric surgery, patients' total weight had dropped by 27% and BMI by 69%. Moreover, diabetes and hypertension resolved in about 40% of patients. Improvements in LDL and HDL cholesterol were also observed.
"Our study shows bariatric surgery has a significant and unparalleled effect on the known risk factors for coronary heart disease in patients after one year," write the authors.
Read Also: Bariatric surgery lowers heart attack risk in diabetes: JAMA
According to Dr Eric DeMaria, president of the ASMBS, the risk of coronary heart disease in people with severe obesity is profound and the effect of bariatric surgery on that risk is equally profound and the study provides further proof that treating obesity means treating heart disease and a whole host of other diseases.
Most weight loss surgeries today are performed using minimally invasive techniques (laparoscopic surgery). The most common bariatric surgery procedures are a gastric bypass, sleeve gastrectomy, adjustable gastric band, and biliopancreatic diversion with duodenal switch.