Levetiracetam effective in prophylaxis of Episodic Migraine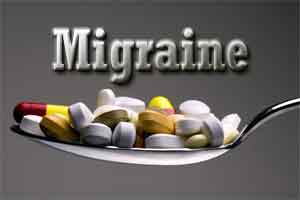 The antiepileptic drug levetiracetam appears to be safe and effective prophylactic treatment option for an episodic migraine, according to a systematic review published in the Journal of Clinical Pharmacy and Therapeutics.
A migraine is a common and costly neurological disorder that affects approximately 1 of every 7 people annually. Pharmacological therapy for prevention of the disease is warranted when patients experience at least 6 headache days, 4 headache days with at least some impairment or 3 headache days with severe impairment or requiring bed rest in a month.
K. Watkins and his associates conducted a literature review to assess the safety and efficacy of levetiracetam for migraine prophylaxis.
The authors did a systematic search in MEDLINE, EMBASE, and CENTRAL regarding migraine disorders and efficacy of levetiracetam.
Out of the total 11 articles that were included for review, 2 were retrospective chart reviews, 4 were randomized placebo or active comparator‐controlled trials, and the remaining 5 were prospective open‐label studies.
The authors found that all the studies showed a statistically significant decrease in headache frequency per month compared to baseline or placebo when used for the treatment of an episodic migraine (2.96‐10.9 headache/month decrease), and 57.9%‐100% of patients had at least a 50% decrease in headache frequency from baseline.
The most common adverse effects observed included somnolence, dizziness, and behavioral effects but no discontinuation was required.
The study concluded that Levetiracetam appears to be well‐tolerated and may be a relatively safe and effective alternative treatment option for episodic migraine prophylaxis in adults who are unable to tolerate or who have failed previous therapies. Overall, levetiracetam appears to have similar efficacy in episodic migraine prophylaxis as seen with other AEDs.However, the insufficient evidence is available to determine the drug's efficacy in a chronic migraine.
Levetiracetam currently has FDA‐approved indications for adjunctive therapy for myoclonic, partial and tonic‐clonic seizure. Typical dosing for seizures in adults is 500 mg once daily titrated to a maximum of 3000 mg/d (1500 mg twice daily)
For more information log on to https://doi.org/10.1111/jcpt.12715
Source : With inputs from the Journal of Clinical Pharmacy and Therapeutics