Lasmiditan - New safe, effective option for prompt relief of migraine pain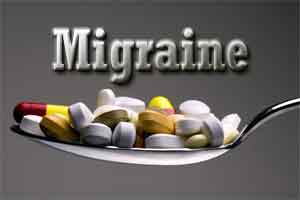 Lasmiditan is safe and effective for the acute treatment of migraine, according to a study presented at the 60th Annual Scientific Meeting of the American Headache Society in San Francisco, California. The study found that Lasmiditan provided prompt relief of pain and other bothersome symptoms as soon as an hour after administration without cardiovascular side effects. It is a novel centrally acting serotonin (5-HT1F) agonist that lacks vasoconstrictive activity.
Lasmiditan could potentially represent the first major innovation for the treatment of an acute migraine in two decades. The drug is a serotonin agonist selective for the 5-HT1F receptor. Triptans activate that receptor, but they are also active at other 5-HT receptor subtypes that are believed to be responsible for these agents' unwanted cardiovascular effects.
The 2 randomized, phase 3, double-blind studies included in this presentation were the SAMURAI and SPARTAN trials that compared lasmiditan versus placebo for the treatment of acute migraine. Patients reported moderate disability associated with their migraine (Migraine Disability Assessment Score ≥11) and a total of 3 to 8 migraine episodes per month.
The results from a pair of randomized phase III studies of lasmiditan were presented by Sheena Aurora, of lasmiditan's developer Eli Lilly.
In the SAMURAI trial, patients were randomly assigned (1:1:1) to 200 mg lasmiditan, 100 mg lasmiditan, or placebo, whereas patients in the SPARTAN trial were assigned to either 200 mg lasmiditan, 100 mg lasmiditan, 50 mg lasmiditan, or placebo in a 1:1:1:1 ratio. The proportion of patients achieving a headache-free status at 2 hours following treatment comprised the primary outcome, whereas the secondary outcome was comprised of the proportion of patients who were free from their most bothersome symptom (MBS) at 2 hours following treatment.
A significantly greater proportion of patients receiving 200 mg lasmiditan in the SAMURAI (32.2% vs 15.3%) and SPARTAN (38.8% vs 21.3%) trials achieved headache-free status at 2 hours post-first dose compared with patients receiving placebo. Additionally, a greater proportion of patients receiving lasmiditan were free of MBS approximately 2 hours following the first dose compared with patients assigned to the placebo group (lasmiditan 200 mg: SAMURAI 40.7%, SPARTAN 48.7%; placebo: SAMURAI 29.5%, SPARTAN 33.5%). The majority of treatment-emergent events were mild-to-moderate in severity and included dizziness, fatigue, lethargy, paresthesia, somnolence, and nausea.
About 20% of patients treated with the highest dose of lasmiditan in one of two phase III trials reported being free of headache pain at 1-hour post-treatment, rising to nearly 40% at 2 hours.
Read Also: Timolol eyedrops may reduce severity of acute migraine
"This is an incredibly exciting time to be in the headache field. So much is happening. This is a golden age for people with migraines," AHS scientific program committee chair Peter Goadsby, told reporters during an advance media briefing ahead of the meeting.
Overall, SAMURAI participants reported about 60% headache pain relief and SPARTAN participants reported nearly 65% relief at 2 hours after the first dose of lasmiditan at either 100 mg or 200 mg. Placebo recipients reported about 40% pain relief in both studies.
Treatment with lasmiditan was generally safe and well tolerated. About 40% of patients receiving the 200-mg dose and 36% of those taking 100 mg experienced treatment-emergent adverse events, all mild to moderate. The most common side effects in the 200-mg arm were dizziness (16.3%-18.0%), paresthesia (6.6%-7.9%), somnolence (5.4%-6.5%), fatigue (3.1%-4.8%), and nausea (2.6%-5.3%). Less than 1% experienced cardiovascular adverse events.
An open-label trial called GLADIATOR is now underway to assess the longer-term safety and efficacy of lasmiditan, Aurora said.
Source : press release