Timolol eyedrops may reduce severity of acute migraine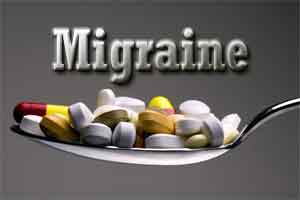 Beta-blocker Timolol eyedrops, a drug of choice used by ophthalmologists for treating glaucoma is found to reduce the severity of a migraine headache in some patients, reports a study recently published in JAMA Neurology.
FDA has already approved various oral beta blockers for treatment of migraine. However, due to slow absorption and delayed metabolism, their efficacy is limited to an acute migraine.
Timolol eye drops provide a rapid route of delivery with the maximum plasma concentration achieved within 15 minutes of administration. This pharmacoadvantage provides timolol eyedrops as an effective management of an acute migraine.
Dr. Gratton and his associates conducted a study find out the effectiveness of timolol eye drops in the management of an acute migraine. A small randomized, crossover, placebo-controlled trial of 10 adults who had been diagnosed with a migraine (with or without aura) was conducted. Patients were randomly assigned to 1 drop of either timolol maleate 0.5% or artificial tears in both eyes at the onset of a migraine and 30 minutes after onset. Participants were seen monthly for 4 months and switched to therapy after 2 months.
There was a total of 198 migraine attacks. For each attack, patients were required to rate its severity on a scale of 0 to 3. At the end of the study, they rated the effectiveness of each drop on a scale of 1 to 4.
The study found that overall effectiveness rating provided to timolol was 2.4 compared to 1.4 for placebo. Four patients found timolol to be highly effective compared with placebo, while one patient found the opposite. Among patients taking timolol, 67% of migraines had a severity of "none" or "mild" at 2 hours compared with 78% for placebo, a difference that was not significant.
One patient developed a branch retinal artery occlusion while taking the placebo, which the researchers believed was unrelated to the study. No other adverse events, including hypotension or bradycardia, were observed.
The study concluded that Timolol is an effective treatment for migraine prophylaxis. According to the authors, more research is needed to identify which patients will respond and at what dosage, which would require a minimum of 172 randomized participants or 86 crossover participants so as to make the study more reliable.
For more information log on to
https://jamanetwork.com/journals/jamaneurology/article-abstract/2680666