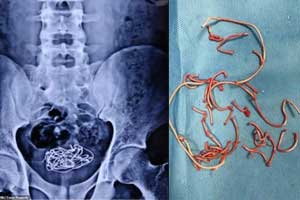 A bizarre and unique case that appeared in the BMJ Case Report describes how doctors from KGMU, Lucknow used a laser to remove the electrical wire that had knotted in an 18-year-old's bladder after he inserted an electric wire in the urethra for eroticism.
The unnamed teenager, from Uttar Pradesh in India, reported of severe pain and difficulty to urinate. Looking back to the medical history of the teenager, the case report revealed that it wasn't his first time putting strange objects into his urethra As such,  the urologists assumed he had placed another object into his urethra and conducted scans, which showed an electrical wire tangled in his bladder.
Writing in the BMJ Case Reports, medics in Lucknow said the man used the wire for 'eroticism' – for his sexual desire. They added: 'It was managed by endoscopic removal following fragmentation of wire under local anesthesia using holmium laser.'
The doctors were forced to use a laser to break the wire up into smaller pieces to pull out of his urethra but nothing was disclosed regarding the duration of the presence of the wire.
Medics conducted scans, which showed an electrical wire tangled in the 18-year-old's bladder (a radiograph shows the knotted wire in his bladder)
Read Also: KGMC doctors remove pen tip from posterior urethra of a boy
The teenager sought medical help after he found it painful to urinate and had pain in his bladder region. Upon questioning, it was revealed the pain had started after he placed the electric wire in his urethra for sexual gratification.
X-rays conducted showed a coiled electric wire in his bladder. It is thought the wire reached his bladder because of the contractions whenever he tried to urinate, curling it up and pushing it deeper.
Surgeons first tried to pull the wire back out of his urethra through a cystoscopy – a procedure to look inside the bladder using a thin camera – but were unable to because it knotted in his bladder.

The team resorted to breaking down the electrical wire by shining a powerful laser at it, attached to a thin wire pushed down his urethra. Holmium lasers, such as the one used in this procedure, are a weapon of choice for urologists tackling enlarged prostates. But the new case proves the laser is also an 'efficient and powerful tool' for breaking down materials and removing them endoscopically.
Urologists, led by Dr. Ajay Aggarwal, claimed the boy had no psychiatric illness as an evaluation proved 'unremarkable'.The operation proved to be a success and the teenager was discharged 24 hours after the procedure.
For reference log on to
http://casereports.bmj.com/content/2018/bcr-2018-225353.full.pdf