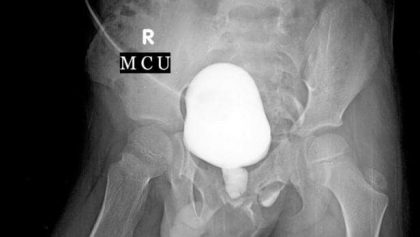 Dr Ashish Sharma and colleagues at Department of Urology, King George's Medical University, Lucknow, Uttar Pradesh, India have reported a case of first of its kind association of posterior urethral valve with a foreign body (a Pen tip) in the posterior urethra. The case has appeared in BMJ Case Reports.
This is the first case of its kind in which a six-year-old boy was subjected to an operation to remove a pen tip from his penis.
According to history, a six-year-old boy from India was taken to the hospital of King George's Medical University with complaints of repeated urinary tract infections. He had difficulty in urinating and would "dribble" urine after he went to the toilet. His investigations ruled out urinary tract infection and X-rays didn't reveal anything blocking his kidneys or bladder.
His further scans revealed that his urethra was dilated and blocked.
Courtesy BMJ Case Reports
When the doctors looked into his urethra endoscopically they discovered a glistening blue plastic material which when removed endoscopically turned out to be a which turned out to be a 1.5cm pen tip. The treating doctors could not speculate how it reached the posterior urethra.
Foreign objects in the urethra is not an uncommon occurrence but is mainly something that's reported in adults. Foreign bodies (FBs) in the urinary bladder are relatively rare. FBs introduced through the urethra are the most common cause of bladder FBs and introduced for the purpose of sexual stimulation. Patients may be asymptomatic or presented with various lower urinary tract symptoms.

Posterior urethral valve and foreign body are among the important causes of male urethral obstruction. Although one is congenital and the other is acquired, both entities are rare in children with only a few reported cases. Because of a myriad of symptoms associated with both conditions, a conclusive diagnosis requires both physical examination and radiological imaging.
For further reference log on to:  doi:10.1136/bcr-2018-226257