Acne drug Isotretinoin may lead to sacroiliitis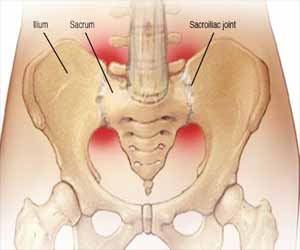 Istanbul, Turkey: Isotretinoin, touted as the most effective treatment for acne, is associated with many side effects, such as musculoskeletal pain and arthralgia. In a recent study, published in the journal Pediatric Dermatology, the researchers report four cases of isotretinoin‐induced sacroiliitis and also present a review of the literature of isotretinoin‐induced sacroiliitis.
Sacroiliitis is a painful condition characterized by inflammation of inflammation of one or both of your sacroiliac joints -- found where the spine meets the pelvis. The condition can cause pain in the buttocks or lower back, and can extend down one or both legs.
Acne is a common skin condition involving blockage and/or inflammation of hair follicles and their glands, which can present as non-inflammatory lesions, inflammatory lesions, or a mixture of both, affecting the face, back and chest. Isotretinoin, a synthetic vitamin A derivative affecting the main aspects in pathogenesis of acne, is the mainstay treatment in severe acne. It works by transforming into forms of trans retinoic acid in vivo that bind to cellular retinol‐binding proteins or retinoic acid nuclear receptors (RARs and RXRs).
For this study, Nuray Aktay Ayaz, University of Health Science, Istanbul, Turkey, and colleagues screened PubMed and MEDLINE by entering keywords; sacroiliitis," "isotretinoin," "acne vulgaris," and "spondyloarthropathy. English literature was searched from inception to January 2019. All the observational studies (case‐control, cohort studies, and case series) and single case reports involving sacroiliitis due to isotretinoin were included. All the cases were male and human leukocyte antigen (HLA)‐B27 negative.
Read Also: JAMA releases Consensus Recommendations on Isotretinoin and Timing of Skin Procedures
Key findings of the study include:


Sacroiliitis was detected a median of 55 (10‐120) days after isotretinoin initiation.


Two patients were responsive to baseline sulfasalazine and indomethacin treatment, while the other two patients required more intensive treatments: adalimumab in one and methotrexate in the other.


The researchers also identified 15 articles describing 33 patients (17 of whom were female) with isotretinoin‐induced sacroiliitis. Most of them were responsive to low‐to‐medium doses of systemic steroids or non‐steroidal anti‐inflammatory drugs (NSAIDs).


Read Also: An effective, Safe Combo Therapy for Severe Inflammatory Acne
"Our patients illustrate that severity of isotretinoin‐induced sacroiliitis varies from patient to patient," wrote the authors.
"In conclusion, sacroiliitis may be induced by isotretinoin therapy as illustrated by our four cases with varying severity. Usually, response to NSAIDs and disease‐modifying antirheumatic drugs (DMARDS) is satisfactory, but some cases required systemic or bio‐ logic therapy for a short time."
The study, "Isotretinoin‐induced sacroiliitis: Case series of four patients and a systematic review of the literature," is published in the journal Pediatric Dermatology.
Source : With inputs from Pediatric Dermatology