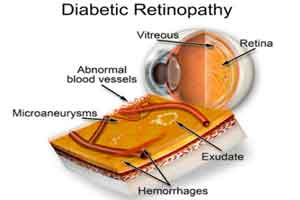 A new study published in JAMA Opthalmology reports that two different approaches to treating proliferative diabetic retinopathy (PDR) led to similar improvement in visual acuity at 5 years.
Jeffrey et al. conducted a randomized clinical trial to compare the efficacy and safety of intravitreous ranibizumab vs pan-retinal photocoagulation over 5 years for treatment of patients with proliferative diabetic retinopathy.
Read Also: Aflibercept- future drug for Non-Proliferative Diabetic Retinopathy
During the study, participants eyes were randomly assigned to receive intravitreous ranibizumab (n = 191) or PRP (n = 203). The frequency of ranibizumab was based on a protocol-specified retreatment algorithm. Diabetic macular edema could be managed with ranibizumab in either group. The mean age of the study participants was 52 years.
The primary outcome was the mean change in visual acuity (intention-to-treat analysis) and the secondary outcomes included peripheral visual field loss, development of vision-impairing diabetic macular edema, and ocular and systemic safety.
The key study findings included are :
For the ranibizumab and PRP groups, the mean (SD) number of injections over 5 years was 19.2 and 5.4, respectively.
The mean (SD) change in visual acuity letter score was 3.1 and 3.0 letters, respectively.
The mean visual acuity was 20/25 (approximate Snellen equivalent) in both groups at 5 years.
The mean (SD) change in cumulative visual field total point score was −330 (645) vs −527 (635) dB in the ranibizumab (n = 41) and PRP (n = 38) groups, respectively.
Vision-impairing diabetic macular edema developed in 27 and 53 eyes in the ranibizumab and PRP groups, respectively (cumulative probabilities: 22% vs 38%.
No statistically significant differences between groups in major systemic adverse event rates were identified.
Read Also: New Glowing contact lens – A potential solution for diabetic retinopathy
The study concluded that either ranibizumab or panretinal photocoagulation may be used as viable treatments for proliferative diabetic retinopathy. However patient-specific factors, including anticipated visit compliance, cost, and frequency of visits, should be considered when choosing a treatment for patients with proliferative diabetic retinopathy.
For reference log on to 10.1001/jamaophthalmol.2018.3255