Intranasal midazolam can be used as first line treatment for status epilepticus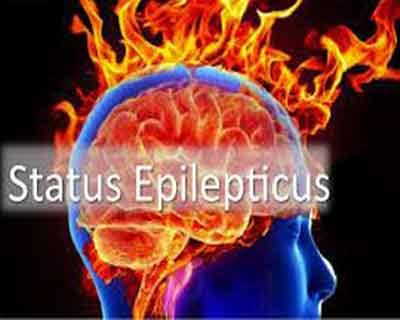 Germany: Intranasal midazolam (in-MDZ) is effective, well-tolerated and can be easily applied for the initial treatment of status epilepticus (SE). It is an effective alternative to the buccal and intramuscular application as first-line treatment in case of non-availability of the intravenous route.
These are the findings of a recent study presented at the 2019 International Epilepsy Congress (IEC).
Status epilepticus is a major medical emergency defined as a continuous seizure lasting more than 30 min, or two or more seizures without full recovery of consciousness between any of them. It is associated with significant morbidity and mortality. Various factors can influence the outcomes of SE including the level of consciousness, underlying etiology, and age. But only one factor is under the control of the physician i.e. the time to treatment.
Intravenous benzodiazepines are widely accepted as the first-line treatment for SE but it can be a tricky and time-consuming affair to place a line in a patient experiencing this medical emergency. Previous studies have shown the effectivity of various nonintravenous formulations of benzodiazepines, such as rectal diazepam or buccal or intramuscular midazolam to be equivalent to intravenous benzodiazepines. One bonus point of these nonintravenous formulations is that they can be administered much faster. But buccal midazolam is quite expensive in Germany, and the ready-to-use intramuscular midazolam applicator that's available in the United States isn't marketed in Germany.
Lara Kay, a neurologist at the epilepsy centre at University Hospital Frankfurt, and colleagues started having their university hospital pharmacy manufacture intranasal midazolam several years ago.
They conducted this study to evaluate the efficacy and tolerability of intranasal midazolam (in-MDZ) as first-line in-hospital therapy in patients with status epilepticus during continuous EEG recording. It involved an observational study of 42 consecutive patients with SE (mean age 53 years and 23 women) and received intranasal midazolam as first-line treatment. The starting dose was 2.5 mg per nostril, moving up to 5 mg per nostril after waiting 5 minutes in initial nonresponders.
Also Read: Levetiracetam effective alternative to Phenytoin for status epilepticus in children: Lancet
Key findings include:


Most of the patients suffered from non-convulsive status epilepticus (n=24; 55.8%).


In total, 24 (57.1%) patients were responders as SE stopped after administering in-MDZ without any other drug being given in-between.


On average, SE ceased on EEG five minutes and five seconds after application of in-MDZ (median 04:56 mins; range 00:29 mins -14:53 mins; SD 03:13mins).


Frequency analysis showed an increased beta-band on EEG after application of in-MDZ at four minutes and seven seconds on average (median 03:50; range 02:20 - 05:40; SD 01:09 mins).


Adverse events were recorded in six patients (14.3%) with nasal irritations in five (11.9%) and prolonged sedation in one (2.6%) patient.


Also Read: Status epilepticus in brainstem stroke: Artery of percheron infarct?
The bottom line of the study is -- Intranasal midazolam can be used as the first-line treatment for status epilepticus when if an intravenous route is not available.
SOURCE:
Kay L et al.
IEC 2019, Abstract P029.