Status epilepticus in brainstem stroke: Artery of percheron infarct?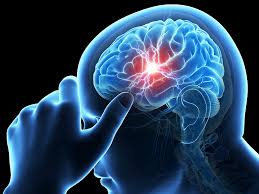 Stroke-related seizures, by and large, are due to either hemorrhagic or ischemic lesion of the cerebral cortex, but subcortical lesions have also been implicated in stroke-related seizures. The occurrence of seizures in thalamic infarcts have been described in the literature, but presenting as status epilepticus is very rare. In best of authors' knowledge, there are only two case reports of status epilepticus in brainstem stroke.Dr.Maulik Panchal and associates have reported a case of 40 years male patient who presented to emergency room with a history of sudden onset vertigo and vomiting, followed by generalized tonic-clonic seizures which evolved into status epilepticus.The case has been published in the Indian Journal of Medical Specialities.
A 40 years male patient chronic smoker, without any past medical illness, presented with a history of sudden onset vertigo and vomiting followed by loss of consciousness and recurrent episodes of the generalized tonic-clonic type of seizures without regaining consciousness in between which continued for around half an hour. He was brought to the emergency room where he was given injection lorazepam and loaded with injection phenytoin and seizures were controlled.
There was no history of fever, headache, head trauma or intoxication. Computerized tomography(CT) of the brain was done which was normal. He was in altered sensorium (Glasgow coma scale – E1V1M2), vitals were stable except tachycardia. Pupils were dilated and sluggishly reacting to light; doll's eye response was present. Plantar reflexes were bilateral extensor; meningeal signs were negative. His routine investigations including blood sugar, serum electrolytes were normal.
Magnetic Resonance Imaging of BRAIN with a Diffusion-weighted image(DWI) was done as CT BRAIN was normal. MRI was suggestive of acute infarct involving midbrain and bilateral paramedian thalamic infarct without any cortical involvement (Fig. 1(A) & (B)). He was treated with intravenous phenytoin, antiplatelet & other supportive treatment, he didn't have any further seizure episodes but his sensorium remained same during the hospital stay. A plan was to do CT angiography of Brain vessels & EEG but it couldn't be done as patient's relatives took leave against medical advice within first 24 h.
The authors opine that emergency physician should be aware of this atypical clinical scenario which can facilitate early diagnosis and treatment and thereby improve disease prognosis.
To Read the full article click on the following link: https://doi.org/10.1016/j.injms.2018.01.002