Individualized Treatment for Diabetes necessary in India- Dr Dheeraj Kapoor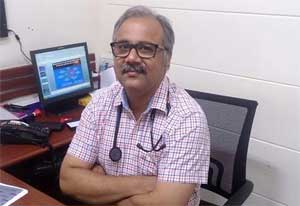 An HbA1C test measures a person's average blood sugar level over the past two or three months. An HbA1C of 6.5 percent indicates diabetes.However, according to new recommendations of American College of Physicians (ACP), there is no proof of benefit for targets of HbA1c below 7%.Therefore in an evidence-based guidance statement, ACP has suggested that HbA1c between 7% & 8% was okay for most T2 DM patients. This implies that most patients with type 2 diabetes should be treated to achieve an A1C between 7 percent and 8 percent rather than 6.5 percent to 7 percent published. The updated guidance has been published online in Annals of Internal Medicine.
Read also: HbA1c between 7% and 8% okay for T2DM Patients-New ACP Guidelines
Blood glucose can be measured in various ways, and HbA1c ( also called glycosylated or glycated hemoglobin), which approximates average blood glucose control over about 3 months is a frequently used tool to measure glycemic control.
As per ADA recommendations, a reasonable A1C goal for many nonpregnant adults is <7 %.With the availability of drugs which rarely cause hypoglycaemias,6.5% is actually a reality, particularly in the newly diagnosed diabetic patients and this may impart a good glycemic memory and is in fact still recommended by most guidelines. Diabetic complication rates do differ with an HbA1c of 7% as compared to say an HbA1c of 8% and this is more obvious while looking at microvascular outcomes, as compared to macrovascular disease; having said that, hypoglycaemia is a major determinant in drug compliance.
So the primary care provider should not rest at say 7.9% and should strive to much better HbA1c levels as long as the risk of hypoglycaemia is avoided and sugar levels are not brittle.
But in patients who have had diabetes of long standing, have developed complications, have a relatively shorter life span, are on polypharmacy, have cognitive impairment or a total lack of support system, these guidelines may be realistic and this degree of glycemic control may actually make life more comfortable for them.
Extremely tight control in a long-standing diabetic patient may sometimes be counterproductive (ACCORD).
Therefore I believe that treatment should be individualised and not every patient be treated alike at the same time aggression should be exercised where it is necessary based upon the forementioned factors and clinical expertise, so as to avoid complacency creeping in and avoiding the unnecessary clinical inertia just because a body has given some relaxation in glycemic control targets.
So let us take a proactive route rather than escapist one and maintain a cautious aggression to serve our patients in the best possible way.
Dr. Dheeraj Kapoor MD, DM, FRCP(Edinburgh), FACP, FICP, FRSSDI, FIACM, FDiab, FGSI and Head Department of Endocrinology at Artemis Hospitals, Gurgaon.