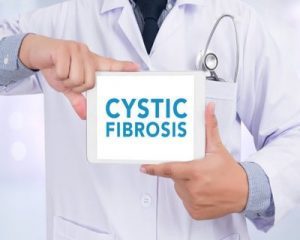 A new study published in the American Journal of Respiratory and Critical Care Medicine reports that preventive inhalation with hypertonic saline(HS) initiated in the first months of life is safe and effective in infants with cystic fibrosis (CF). The study suggests that hypertonic saline, HS resulted in improvements in lung clearance index (LCI) and weight gain.
Cystic fibrosis (CF) lung disease starts in early infancy suggesting that preventive treatment may be most beneficial
Read Also: Orkambi approved to treat younger Cystic Fibrosis patients
Previous studies in mice found that the salt content of hypertonic saline decreased mucous plugging that can lead to airway obstruction and repeated infections. Other studies found hypertonic saline benefited older infants and children with CF.
Mirjam Stahl and associates conducted a study to determine feasibility, safety, and efficacy of preventive inhalation with hypertonic saline (HS) compared to isotonic saline (IS) in infants with CF including LCI and MRI as outcome measures.
Several studies from teams worldwide investigating infants and preschool children with CF identified by newborn screening revealed that CF lung disease starts in the first months of life, leaving only a narrow window of opportunity for preventive therapeutic interventions," said Dr. Stahl, the lead study author and a pediatric pulmonologist at the Cystic Fibrosis Centre and the Translational Lung Research Center at the University of Heidelberg. "Because lung disease is the most important factor for morbidity and mortality in patients with CF, prevention, or at least delay, of the onset and progression of CF lung disease may be a promising therapeutic strategy."
Read Also: Ivacaftor for children with Cystic Fibrosis aged 12-24 months
The researchers enrolled 40 young infants (average age three months at enrollment) with CF who were randomly assigned to receive either hypertonic saline (saline with a 6 percent salt concentration) or isotonic (0.9 percent) saline. The study participants were followed for 12 months.

The key study findings included are:
The inhalation of HS and isotonic saline (IS) was generally well tolerated by CF infants and the number of adverse events did not differ between groups.
The change in LCI from baseline to week 52 was larger in CF infants treated with HS (-0.6) compared to IS (-0).
Moreover, weight gain was improved in CF infants treated with HS whereas pulmonary exacerbations and chest MRI scores did not differ in the HS vs. IS group.
The authors concluded that the study shows for the first time that randomized control trial(RCT) including LCI and MRI as quantitative outcome measures of early lung disease is feasible in young infants with CF.
"Further, this initial RCT supports that preventive treatment with inhaled HS starting in the first months of life is safe and has therapeutic benefits on lung function and thriving of CF infants. These data support the conduct of future RCT to determine the safety and efficacy of preventive treatment strategies that have the potential to delay or prevent progressive lung damage in patients with CF," write the authors.
For full study log on to https://doi.org/10.1164/rccm.201807-1203OC