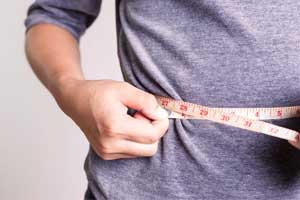 In a groundbreaking technological breakthrough, scientists have developed a new battery-free, an easily implantable weight-loss device which could help manage obesity.
The study published in the journal Nature Communications showed that in laboratory testing, the device helped rats shed almost 40 per cent of their body weight.
The vagus nerve stimulation (VNS)device was built based on a flexible triboelectric nanogenerator (TENG) that was attached to the stomach wall of rats and could generate biphasic electric pulses when the stomach wall moved. The TENG electrodes were directly connected to the vagus nerve, where the stomach motion-generated voltage signals stimulated the vagus nerve to reduce food intake.
Read Also: Vitamin D supplements promote weight loss in obese children
"We envision that this correlated stimulation could provide less amount but more targeted stimulation so that the nerves might be more responsive to the stimulation, and thus more effective to control food intake, "write the authors.
According to the researchers, CT and haematology indicators revealed the implantation was very stable and remained at the same position during the entire testing period.
The investigators found that from the weight-gain test, the average body weight and epididymal fat pad/body weight ratio (EBR)  can be controlled at 350 g and 1.14% in the VNS group, compared to 559–564 g and 1.65–1.69% in the other three control groups with insignificant differences.
The VNS system rapidly achieved 35% weight loss within 18 days, which was maintained 38% during the remaining 75-day testing period. From the weight-loss test, the average body weight and EBR was controlled at 410 g and 1.26% in the VNS group, compared to 570–575 g and 1.69–1.77% in the other three control groups. Rats in the VNS groups were also able to recover their normal weight pattern immediately after the implanted VNS devices were removed.
Read Also: Weight Loss drug Lorcaserin safe, has no cardiac toxicity-ESC update
Wang's device has several advantages over an existing unit that stimulates the vagus nerve for weight loss. That existing unit, "Maestro," approved by the Food and Drug Administration in 2015, administers high-frequency zaps to the vagus nerve to shut down all communication between the brain and stomach. It requires a complicated control unit and bulky batteries which frequently must be recharged.
The device contains no batteries, no electronics, and no complicated wiring. It relies instead on the undulations of the stomach walls to power its internal generators which mean the device only stimulates the vagus nerve when the stomach moves.
For full information log on to https://www.nature.com/articles/s41467-018-07764-z#Sec6