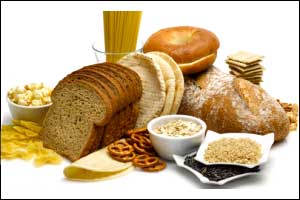 Contrary to the popular belief that gluten-free diets carry health benefits, a new study published in the journal Diabetologia has found that higher the intake of gluten, lower is the risk of type 2 diabetes (T2D) in healthy men and women. So, people without celiac disease or gluten sensitivity should be discouraged from avoiding gluten. 
Gluten is a family of proteins found in grains like rye, wheat, barley and spelt. Of the gluten-containing grains, wheat is by far the most commonly consumed.
For the study, the researchers followed women from the  Nurses' Health Study (NHS, n = 71,602, 1984–2012) and NHS II (n = 88,604, 1991–2013) and men from the Health Professionals Follow-Up Study (HPFS, n = 41,908, 1986–2012). Gluten intake was determined using a validated food frequency questionnaire every 2–4 years. Incident T2D was defined as self-reported physician-diagnosed diabetes confirmed using a supplementary questionnaire.
Also Read: Gluten-Free Diet may help protect against the Neuropathic Pain
Key Results:
Gluten intake was strongly correlated with intakes of carbohydrate components, especially refined grains, starch and cereal fiber.
During 4.24 million years of follow-up, 15,947 incident T2D cases were confirmed.
In combined analyses, HRs for T2D from low to high gluten quintiles were 1 (reference), 0.89 (95% CI, 0.85-0.93), 0.83 (0.80-0.88), 0.77 (0.73-0.81), and 0.78 (0.74-0.82) (Ptrend<.001).
Further adjustment for cereal fiber attenuated the association, with pooled HRs for T2D of 1 (reference), 0.91 (95% CI, 0.87-0.96), 0.88 (0.83-0.93), 0.83 (0.78-0.88), and 0.87 (0.81-0.93) (Ptrend<.001).
Gluten intake and T2D were more strongly associated after controlling for refined grains, whereas further adjusting for whole-grain intake attenuated the association (both Ptrend<.001).
"The intake of gluten is inversely associated with the risk of T2D among largely healthy US men and women. Limiting gluten in the diet is associated with lower intake of cereal fiber and possibly other beneficial nutrients that contribute to good health," concluded the authors.
For further information log on to https://doi.org/10.1007/s00125-018-4697-9