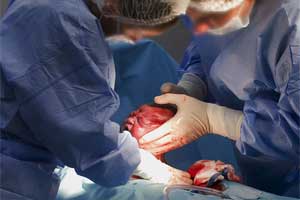 The number of babies born through cesarean section (C-section) almost doubled from 12% to 21% of all births between 2000 and 2015 globally, according to a new study published in The Lancet and presented at the International Federation of Gynecology and Obstetrics (FIGO) World Congress in Brazil.
C-section (CS) is a life-saving intervention for women and newborns when complications occur, such as bleeding, fetal distress, hypertensive disease, and babies in an abnormal position. But, the surgery is not without risk for mother and child and is associated with complications in future births. The surgery is still unavailable for many women and children in low-income countries and regions, the procedure is overused in many middle- and high-income settings.
Also Read: Children born through cesarean predisposed to food allergy
Key Findings:
On the basis of data from 169 countries that include 98·4% of the world's births, the authors estimated that 29·7 million (21·1%, 95% uncertainty interval 19·9–22·4) births occurred through CS in 2015, which was almost double the number of births by this method in 2000 (16·0 million [12·1%, 10·9–13·3] births).
CS use in 2015 was up to ten times more frequent in the Latin America and Caribbean region, where it was used in 44·3% (41·3–47·4) of births, than in the west and central Africa region, where it was used in 4·1% (3·6–4·6) of births.
The global and regional increases in CS use were driven both by an increasing proportion of births occurring in health facilities (accounting for 66·5% of the global increase) and increases in CS use within health facilities (33·5%), with considerable variation between regions.
Based on the most recent data available for each country, 15% of births in 106 (63%) of 169 countries were by CS, whereas 47 (28%) countries showed CS use in less than 10% of births. National CS use varied from 0·6% in South Sudan to 58·1% in the Dominican Republic.
Within-country disparities in CS use were also very large: CS use was almost five times more frequent in births in the richest versus the poorest quintiles in low-income and middle-income countries; markedly high CS use was observed among low obstetric risk births, especially among more educated women in, for example, Brazil and China; and CS use was 1·6 times more frequent in private facilities than in public facilities.
In the UK C-section use has increased from 19.7% of births in 2000 to 26.2% in 2015.
"Pregnancy and labor are normal processes, which occur safely in most cases. The large increases in C-section use—mostly in richer settings for non-medical purposes—are concerning because of the associated risks for women and children. C-sections can create complications and side effects for mothers and babies, and we call on health care professionals, hospitals, funders, women, and families to only intervene in this way when it is medically required," says Series lead Dr. Marleen Temmerman, Aga Khan University, Kenya and Ghent University, Belgium.
C-section improves maternal, newborn and child survival when complications arise, and can also lower the risk of incontinence and prolapse.
However, there are short and long-term risks associated with C-sections for mothers and children, and there are no benefits of C-section in cases without a medical indication.
Maternal death and disability are higher after C-section than vaginal birth. In particular, C-sections have a more complicated recovery for the mother and lead to scarring of the womb, which is associated with bleeding, abnormal development of the placenta, ectopic pregnancy, stillbirth and preterm birth in subsequent pregnancies. The authors say that it is important to note that these are small but serious risks, but each of these risks increases as a woman has more C-sections.
Tackling overuse of C-section
Common reasons why women request C-sections include past negative experiences of vaginal birth, or fear of labor pain or of the effects of labor such as pelvic floor damage, urinary incontinence, reduced quality of sexual functioning. To address this, the authors recommend further research to study relaxation training, childbirth training workshops, educational lectures and brochures, and meeting with health professionals to promote supportive relationships, collaboration, and respect.
For healthcare professionals, improved education, guidelines and communication, and second-opinion policies may also be helpful to address influences such as women's requests, convenience, financial incentives, and fear of litigation. In particular, in some regions, C-sections are seen as protective, and physicians are less likely to be sued if complications occur than during vaginal delivery.
The authors warn that in many settings young physicians are becoming experts in C-section while losing confidence in their abilities to assist in the vaginal birth.
Clinical interventions are needed to reduce unnecessary C-sections, but there is a lack of research and investment in this area. Early evidence suggests that offering vaginal breech delivery to carefully selected women, and attempting vaginal birth for women who have previously had C-sections may be helpful in reducing C-section use. In addition, some evidence suggests that reducing the number of interventions involved in pregnancy may help reduce C-section use, and this could be achieved by midwifery-led care, planning labor in birth centers, or offering continuous labor support.
For further reference log on to https://doi.org/10.1016/S0140-6736(18)31928-7