Children born through cesarean predisposed to food allergy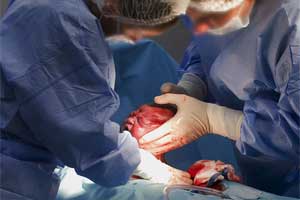 Cesarean delivery could increase the risk of food allergy in offspring, whereas preterm birth before 32 weeks of gestation decreases the risk, suggests a new study published in the Journal of Allergy and Clinical Immunology.
Niki Mitselou, Department of Pediatrics, Örebro University Hospital, Örebro, Sweden, and colleagues conducted the study to explore the association between perinatal characteristics and future risk of food allergy in offspring.
"It is noteworthy that our study suggests that both elective and emergency cesarean deliveries predispose to food allergies," the authors stated. "This positive association strengthens the theory that exposure to vaginal microflora might reduce the risk of offspring atopic manifestations."
As a part of the study, the researchers examined data on 1,086,378 children born in Sweden in 2001-2012. Using Cox regression, we estimated hazard ratios (HRs) with 95% CIs for the association between perinatal characteristics (eg, cesarean delivery and preterm birth) and food allergy as defined by diagnoses in the National Patient Register, adjusting for infant sex and maternal factors (age at delivery, country of birth, parity, smoking, body mass index, and asthma/pulmonary disease).
Also Read: Updated Food Allergy Guidelines to Include Prevention of Peanut Allergy
Key Results:


During the 13-year follow-up, 26,732 (2.5%) children were given a diagnosis of food allergy.


Food allergy was positively associated with cesarean delivery (HR, 1.21; 95% CI, 1.18-1.25), large for gestational age (HR, 1.15; 95% CI, 1.10-1.19), and low 5-minute Apgar score (HR, 1.22; 95% CI, 1.10-1.36) but negatively associated with very preterm birth (<32 weeks of gestation: HR, 0.74; 95% CI, 0.56-0.98).


No association was found between food allergy and moderately preterm birth, low birth weight, or small for gestational age.


Risk estimates were similar when the outcome was restricted to 2 records of diagnosed food allergy.


In 1,000 children undergoing cesarean delivery, an extra 5 developed food allergy compared with the reference group, suggesting that 17% of food allergy in children born by means of cesarean delivery can be explained by this exposure (attributable fraction).


"Our results found that cesarean delivery was associated with increased risk of food allergy, whereas very preterm birth decreased risk," concluded the authors.
For further reference log on to https://doi.org/10.1016/j.jaci.2018.06.044
Source : With inputs from Journal of Allergy and Clinical Immunology