Gentamicin not superior to ceftriaxone in Gonorrhea treatment: the Lancet study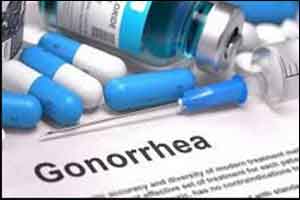 Gentamicin is not superior to ceftriaxone in the treatment of Gonorrhea, finds a study appearing in the Lancet.
In this scenario of antimicrobial resistance emergence, the researchers are looking at the alternative of first-line treatments. Last year only an ominous report from England's public health agency described a case of gonorrhoea that was resistant to both components of the dual antibiotic therapy of azithromycin and ceftriaxone—the only remaining recommended treatment for gonorrhoea. This was a perfect example of rising antimicrobial resistance.
The recent study looked at the effectiveness of gentamicin as an alternative to the current first-line treatment ceftriaxone for treatment of gonorrhoea.
The study, published in the journal The Lancet found that gentamicin is not a suitable alternative to ceftriaxone for gonorrhea treatment. It further elaborated that gentamicin is not appropriate as first-line treatment for gonorrhea. But gentamicin in combination with azithromycin may be potentially useful for patients who are allergic or intolerant to ceftriaxone or harbor a ceftriaxone-resistant isolate.
Prof Jonathan D C Ross, University Hospitals Birmingham NHS Foundation Trust, Birmingham, UK, and colleagues enrolled 720 teens and adults aged 16 to 70 years old with uncomplicated genital, pharyngeal, or rectal gonorrhea in this multicenter non-inferiority trial, conducted at 14 sexual health clinics in England.
Participants were randomly assigned 1:1 to receive a single intramuscular dose of either 240-milligrams (mg) gentamicin (n=358) or 500-mg ceftriaxone (n=362), with both groups also receiving a single oral dose of 1 gram (g) of azithromycin. The primary outcome was the clearance of N gonorrhea at all sites. The non-inferiority margin was 5 percentage points.
Also Read: Ceftriaxone 1g IM first line treatment of gonorrhoea, says 2019 BASHH Guideline
They found that:


Primary outcome data were available for 306 (85%) of 362 participants allocated to ceftriaxone and 292 (82%) of 358 participants allocated to gentamicin.


At 2 weeks after treatment, the infection had cleared for 299 (98%) of 306 participants in the ceftriaxone group compared with 267 (91%) of 292 participants in the gentamicin group.


Of the 328 participants who had a genital infection, 151 (98%) of 154 in the ceftriaxone group and 163 (94%) of 174 in the gentamicin group had clearance at follow-up.


For participants with a pharyngeal infection, a greater proportion receiving ceftriaxone had clearance at follow-up (108 [96%] in the ceftriaxone group compared with 82 [80%] in the gentamicin group.


Similarly, a greater proportion of participants with rectal infection in the ceftriaxone group had clearance (134 [98%] in the ceftriaxone group compared with 107 [90%] in the gentamicin group.


Not a single dose of gentamicin 240 mg was non-inferior to a single dose of ceftriaxone 500 mg for the treatment of gonorrhea when both drugs were combined with a 1 g dose of oral azithromycin.


The side-effect profiles were similar between groups, although the severity of pain at the injection site was higher for gentamicin (mean visual analog pain score 36 of 100 in the gentamicin group vs 21 of 100 in the ceftriaxone group).


Also Read: Gonorrhoea strains becoming more susceptible to available treatment options
The results also call into question the continuing use of azithromycin as part of the dual-therapy regimen.
The Gentamicin in the Treatment of Gonorrhea (G-ToG) trial was conducted as part of an effort to find an acceptable alternative to ceftriaxone, which is the current recommended treatment for gonorrhea infections.
An alternative is needed because Neisseria gonorrhoeae—which is known for its ability to develop resistance quickly and has cycled through several antibiotics—is becoming increasingly resistant to ceftriaxone. Azithromycin, which has a different mechanism of action than ceftriaxone, was added to the regimen to improve treatment efficacy and to slow the emergence of ceftriaxone resistance.
This finding from the trial was among the reasons cited by the British Association for Sexual Health and HIV in its decision to drop the recommendation for dual therapy with azithromycin in patients with uncomplicated gonorrhea in its 2019 guidelines, which now recommend a 1-g intramuscular shot of ceftriaxone as the first-line treatment.
"Further research is required to identify and test new alternatives to ceftriaxone for the treatment of gonorrhea," concluded the authors.
"A high gonorrhea disease burden, increasing rates, and growing antimicrobial resistance portend a developing global public health crisis. Gonorrhea can cause reproductive complications such as pelvic inflammatory disease and infertility, blindness in infants born to infected mothers, and can facilitate HIV acquisition and transmission. Effective treatment prevents sequelae and transmission. Yet Neisseria gonorrhoeae has developed resistance to each antimicrobial used for treatment. Development of new antimicrobials has not kept pace," Robert D Kirkcaldy and Kimberly A Workowski write in an accompanying editorial.
For detailed study log on to
https://doi.org/10.1016/S0140-6736(18)32817-4