Genetics may predict response to antipsychotic medications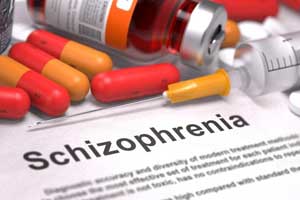 Genetics can be used for the prediction of a schizophrenia patient's response to antipsychotic drug treatment, according to a new study.
The study, published in the American Journal of Psychiatry finds that patients with higher polygenic risk scores (PRS), also called genetic risk score, for schizophrenia tended to have less improvement with antipsychotic drug treatment. PRSs derived from genome-wide association studies (GWAS) can quantify the influence of thousands of common alleles of small effect in a single measure.
Also Read: Combination therapy in Schizophrenia increases risk for diabetes: GOMAP Study
Schizophrenia is one of the leading causes of disability in the U.S. It is characterized by delusions, hallucinations and disorganized thoughts and behavior. The condition is currently treated with antipsychotic drugs, but this therapy is given without guidance from lab tests to show effectiveness, as is common in other areas of medicine.
Doctors often use "trial-and-error" when choosing a treatment for schizophrenia, without knowing if patients will respond well. This uncertainty places a large burden on not only patients and their families, but also health care professionals and health care systems.
Jian-Ping Zhang, assistant professor at the Feinstein Institute, and colleagues conducted the study to determine whether PRSs for schizophrenia were predictive of antipsychotic efficacy in four independent cohorts of patients with first-episode psychosis (total N=510).
"Polygenic risk scores represent the combined effects of many thousands of genetic variants across the entire genome, and better represent the very complex genetic nature of schizophrenia," said Zhang, assistant professor at the Feinstein Institute and lead author of the study.
Also Read: Amisulpride and clozapine given in sequence lead to remission in schizophrenia : Lancet
Key Findings:


In the discovery cohort, higher PRS significantly predicted higher symptom scores at the 12-week follow-up (controlling for baseline symptoms, sex, age, and ethnicity).


The PRS threshold set at a p value <0.01 gave the strongest result in the discovery cohort and was used to replicate the findings in the other three cohorts.


Higher PRS significantly predicted greater posttreatment symptoms in the combined replication analysis and was individually significant in two of the three replication cohorts.


Across the four cohorts, PRS was significantly predictive of adjusted 12-week symptom scores (pooled partial r=0.18; 3.24% of variance explained).


Patients with low PRS were more likely to be treatment responders than patients with high PRS.


"The results we found open the door for 'precision medicine' approaches to psychiatry, and more specifically, the use of polygene scores as a new technology for the treatment of psychiatric disorders," said Feinstein Institute professor Todd Lencz.
The researchers hope to expand the study, with the ultimate goal of developing clinical guidelines for the use of polygenic risk scores and other predictors (such as brain scans) in the treatment of schizophrenia.
For further reference log on to
https://doi.org/10.1176/appi.ajp.2018.17121363
Source : With inputs from American Journal of Psychiatry